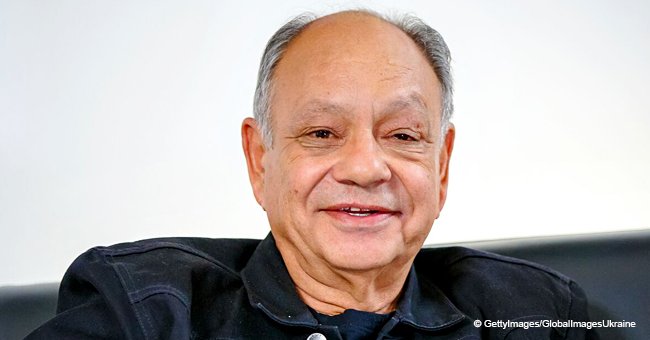 Here's how Cheech Marin found happiness with a 30-year-old pianist after two failed marriages
Third time is the charm for comedy star Cheech Marin as he celebrated Valentine's Day with his wife, while also getting to celebrate a decade of marriage later this year.
In the 1970s Cheech became synonymous with comedy after he met Tommy Chong. Together the two featured as the main characters in sequel comedy movies "Cheech and Chong" that had many in stitches.
Many may also remember Cheech from his well-known role opposite Don Johnson in the police drama, "Nash Bridges."
On Valentine's, 72-year-old Cheech shared a sweet snap of himself and 29-year-old Natasha, who will also celebrate her 30th birthday this year. The two looked content and happy as they smiled for the camera:
Cheech's first marriage was to Dalene Morley, whom he wed in 1975, and had his son with. The couple's marriage lasted nine years before their divorce in 1984. Only two years later Cheech married his second wife, Patti Heid, with whom he had two daughters.
Things between Patti and Cheech did not work either, and after their divorce, Cheech started dating the Russian pianist, Natasha Rubin whom he wed in 2009. Before getting married, the couple dated for a long time, and age never seemed a factor in their relationship.
The couple had a beautiful and intimate sunset ceremony at their Malibu home, and still going strong ten years later.
Born Richard Anthony Marin, Cheech got his nickname as a child, and it stuck for life. His uncle said he looked like a chicharrón, which is a fried pork rind and will forever be known after the much loved Mexican snack.
Something that helped the nickname stick is the sequel comedy film series, "Cheech & Chong." He became the most recognizable Latino in the film industry due to his role as a hippie in the hit comedy sequels.
Since 1978, Cheech played in over twenty movies and made a significant impact on the Latino pop culture. Many may not know, that apart from being a stand-up comedian, writer, activist, voice actor, and being a successful film actor, he also received an Honorary Doctorate.
In May 2007, Otis College of Art & Design in Los Angeles bestowed Cheech with the honor, which seemed fitting as Cheech is more than just a fan of art. He has one of the most exclusive private collections of Chicano art in the entire United States.
From 2001-2007, Cheech ran a 12 city exhibition called "Chicano Visions: American Painters on the Verge," where most of his owned pieces formed the core of the showcase. The popular expo broke attendance records during its tour through the United States.
Cheech is currently busy with an exciting project. In 2018, the state of California granted him $9.7 million to build an arts center in Riverside, California. Titled, "Cheech Marin Center for Chicano Art, Culture and Industry" for the time being, the museum is set to open in 2020.
During this year's 61st Annual Grammy Awards, another star held the Latino torch high during a Motown Tribute.
Please fill in your e-mail so we can share with you our top stories!