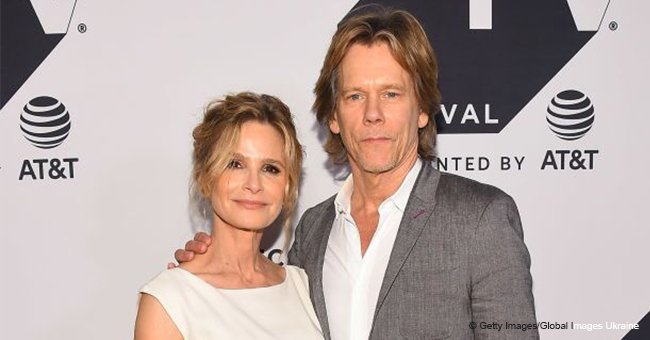 Kevin Bacon secretly sings a love song to his wife of 30 years while sitting next to their dog
Actor Kevin Bacon proved that he is a true romantic by singing for his wife Kyra Sedgwick on Valentine's Day.
Kevin Bacon and Kyra Sedgwick are one of the few Hollywood couples that have stood the test of time, and are as loving as ever today, as when they were first married.
On Valentine's Day, the "Footloose" actor posted a sweet tribute to his wife, by singing her a love song.
"OK, we don't really do Valentine's Day in my family so shhh don't tell Kyra that I got her this little Valentine's Day present. All right? Just keep it quiet. Thanks!"
A SECRET VALENTINE FOR KYRA
The clip starts with the actor sitting cross-legged in what appears to be his bedroom, with his dog by his side.
He brandishes a ukelele and whispers that since his family "doesn't do Valentine's Day" the video is a secret.
Kevin Bacon and Kyra Sedgwick met while filming a TV movie "Lemon Sky" in February 1988
AN ICONIC LOVE SONG BY JONI MITCHELL
Bacon then starts playing Joni Mitchell's iconic "A Case of You," and ends by whispering into the camera:
. "Happy Valentine's Day, honey. I love you."
KYRA'S HILARIOUS RESPONSE
Sedgwick responded to his post, telling Bacon that she loved him, then adding, tongue-in-cheek:
'I think this song pertains more to your contentious relationship with Lilly than your lovely relationship with @kikkosedg "constantly in the darkness, where's that at? If you want me I'll be in the parkkk."'
SINGING TOGETHER FOR 30 YEARS
The happy couple has been singing together since 1988, and recently celebrated their 30th wedding anniversary by posting their own rendition of the BeeGee's "To Love Somebody."
Sedgwick and Bacon share two equally talented children, musician Travis Bacon, 29, and actress Sosie Bacon, 26.
HOW DID KEVIN BACON AND KYRA SEDGWICK MEET?
Kevin Bacon and Kyra Sedgwick met while filming a TV movie "Lemon Sky" in February 1988, but for Kyra, it definitely wasn't "love at first sight."
"I vividly remember looking at his butt when he walked away after we first met and thinking, Well, I guess some girls like that."
Bacon was impressed by the lovely actress and managed to win her over, and they were married in September 1988 - quick work by any standard.
The couple shares two children and lives in Manhattan, far from Tinsel Town. In 2011, Bacon and Sedgwick appeared on the PBS TV show "Finding Your Roots" and discovered that they are ninth cousins, once removed.
In a related story, Kevin Bacon's daughter Sosie is all grown up and she's trying to follow in her famous dad's footsteps.
Please fill in your e-mail so we can share with you our top stories!