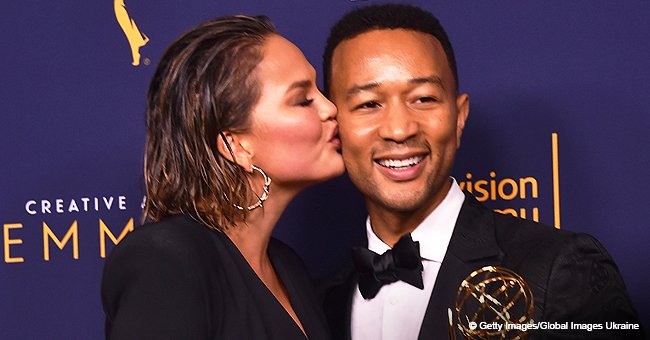 Chrissy Teigen shares picture of son in a baby-sized tuxedo and jokes about cheating on John Legend

Actress, Chrissy Teigen took to Instagram to share a picture of her son in a baby-sized tuxedo. She went on to joke about cheating on John Legend.
Chrissy Teigen is no stranger to going viral. Her sense of humor often stuns fans and leaves them waiting for more.
She recently posted a photograph of her and John Legend's 9-month-old son Miles Theodore to Instagram. The little boy is a spitting image of his father and Teigen joked that if you're going to cheat on your husband, it's best to choose a man who looks exactly like him.
The adorable pic of little Miles showed him all dressed up. He wore an adorable baby-sized tuxedo while grinning happily at the camera while holding out his arms.
"Someone had a wonderful Valentine's dinner with @alanavanderaa and @chrishimmm! maybe he will fit into these shoes by next v-day," the mother of two, 33, captioned the images.
Tiegens caption drew extra attention to her son's feet. On his feet, were a pair of very cute but too-big sneakers.
Legend, 40, responded to the post saying, "He is me."
His adorable comeback prompted Teigen to joke about her fidelity to her husband. She wrote:
"@johnlegend it's important to cheat with people who look like your husband."
Fans also commented on how much Mils looked like his dad. They flooded the comments section of the post with their proclamations.
"Honey, I Shrunk John Legend – coming to theaters this spring," joked Katharine McPhee.
Earlier this month, Teigen spoke out against Twitter "trolls" who teased Miles' for wearing a medical helmet. She previously explained he wears the apparatus to treat the Plagiocephaly he suffers from.
"Good morning trolls! Just a friendly reminder that you do not indeed know absolutely everything," the Cravings author wrote on Twitter last December. "Miles has been seeing a physiotherapist — we didn't just go straight to helmet. We tried muscle work and will continue. Also your flat headed kid turned out fine yes yes yes I agree. Just didn't want you guys to see pictures and wonder. Not promoting anything. Just sharing our story! Thank you back to your bridge now."
Please fill in your e-mail so we can share with you our top stories!