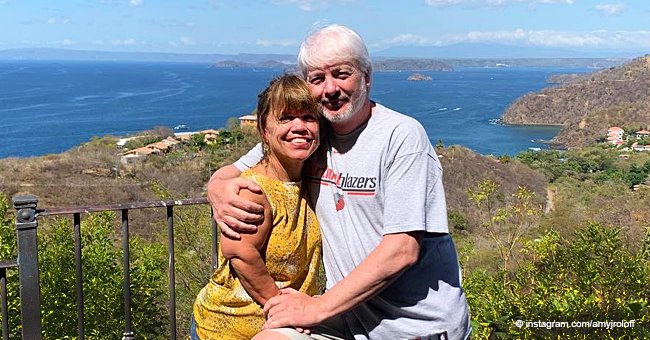 'He's creepy': Amy Roloff's fans grow suspicious about her relationship with Chris Marek

Haters attack Amy Roloff's boyfriend, Chris Marek on social media and some went as far as calling him "creepy." Their reason, he wouldn't commit to the star even after two years of dating.
In the world now, even the littlest detail is on the media. Almost everyone has unsolicited opinions to give and put their noses in other people's business. It's become more challenging to live a simple life.
"Little People, Big World" star, Amy Roloff took a trip to southern America during valentine's day to spend some quality time with her boyfriend, Chris Marek. Innocently, Roloff posted cute pictures of the duo having fun with the caption:
"Our 3rd Valentine's Day together and he keeps surprising me! ♥️. Home made card, sweet thought inside and flowers. Having a very special and memorable time in Costa Rica w/ Chris! #puravida #costarica #3rdvalentinesdaytogether #amyroloffandchrism #amyroloffssecondact"
The sweet caption and lovely photos were not enough to melt away the hatred in some of her fan's heart; they couldn't be happy for them and didn't pretend to be. The trolls took to the star's comment section to share how they felt about her single status after so many years. Most of their wrath was directed at Chris, with insinuations that he is just a gold digger who doesn't truly love Amy.
"He's creepy," read one of the comments.
Another hateful person commented:
"I wish he'd surprise you with a ring, praying God gives you wisdom regarding the situation. Enjoy!"
Although there were lots of messy comments with some judging Amy for not having a ring yet, there were also some that were kind and supportive of the LPBW star.
"Love to see you so happy Amy!" @mvelasquez517 said.
The smitten couple met at a singles mixer event, but the sparks didn't happen until much later when Chris invited Roloff to go on a motorcycle ride with him. Over two years now, and the couple is still so in love with each other.
Please fill in your e-mail so we can share with you our top stories!