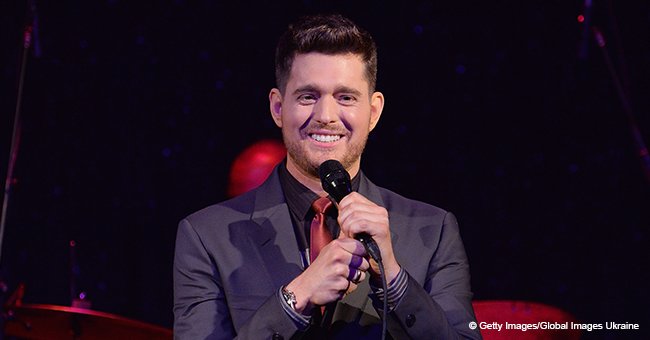 Michael Bublé Invites Girl to Sing at His Concert and She Totally Stole the Show

Erin Bellucci stole the spotlight after superstar Michael Bublé invited her to sing at his concert.
The 21-year-old college student wowed the audience with her incredible voice, as can be seen in a video uploaded on Facebook.
Bublé is not the only singer who is fond of giving talented fans a chance to sing at their concerts.
She performed an impromptu rendition of "At Last" at Bublé's concert at Madison Square Garden.
Bellucci, a music major at the University of Delaware, was sitting in the front row when Bublé invited her to sing her favorite song. She belted out the Etta James classic.
LIKE A SCENE FROM "A STAR IS BORN"
Her soulful voice stunned Bublé and the entire crowd. Her sister, Allison, 24, made sure to film the scene, which calls to mind a scene in the Oscar-nominated remake of "A Star is Born".
In the movie, Bradley Cooper plays a famous singer who invites an unknown singer, played by Lady Gaga, up on stage at his concert. Her stellar performance that night launched her into stardom.
After Bellucci's performance, Bublé said: "That was so beautiful. That may not be your last time here. That was incredible."
Bellucci, obviously, isn't new to performing. She sings with jazz and a cappella groups at Delaware.
SEIZING HER CHANCE
She quickly decided to take the opportunity when Bublé asked the audience if anyone had favorite songs they liked to sing in the shower. She and her sister jumped and down to get the singer's attention.
Before handing over the microphone, Bublé said: "Ladies and gentlemen, don't be terrible judges. Be more Blake [Shelton] than Simon Cowell."
What he didn't know is that Bellucci will blow him and the crowd away with her soulful voice.
Bublé is not the only singer who is fond of giving talented fans a chance to sing at their concerts.
On September 23, 2018, Australian country star Keith Urban invited a fan to sing a duet with him, and she blew him away.
Urban was performing in Alberta Canada as part of his Graffiti U Tour which started on June 15, 2018, in Maryland Heights, Missouri.
Please fill in your e-mail so we can share with you our top stories!