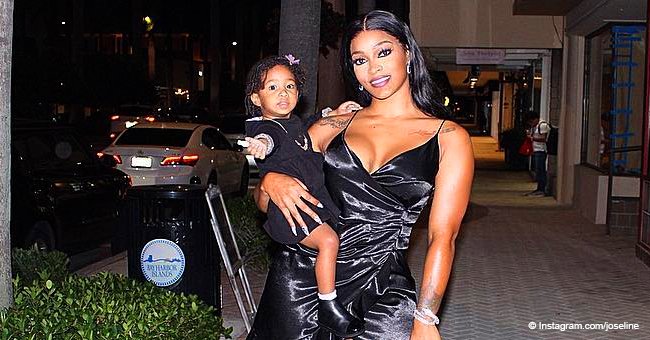 Joseline Hernandez Gets Dragged after Dressing Daughter Bonnie Bella in All Black Outfit

Joseline Hernandez took to Instagram to share a couple of photos of a recent outing with her daughter. People complained about the clothes the Puerto Rican Princess chose for her child.
In one of the images, Joseline appeared wearing a sleeveless, tiny, black dress with a deep V-cut neckline and strappy high-heels. The proud mother was holding Bonnie Bella in her arms.
The girl was wearing black boots, white socks, and a loose black dress. For the second post, Joseline was crouched looking at the camera with a serious face while Bonnie was sitting on her lap.
REACTING TO THE POST
In the captions, the self-proclaimed Puerto Rican Princess, known for her relationship with Stevie J, wrote, "blessed all day" and "Las Divas." As soon as she shared those shots, her followers took to the comment section to express their discomfort.
"Dress that child better, I'm sick of this," one user commented.
"in MY OPINION joseline dresses her goofy," [sic] admitted a second follower.
"You really should put more clothes on around your daughter, moms don't dress like that when they're out with their kids," added another person.
FACING MORE BACKLASH
Unfortunately, it is not the first time that Joseline gets dragged over the clothes she chooses for her two-year-old daughter. Recently, she posted a photo of Bonnie next to a tree wearing silver shoes, pink socks, a long navy skirt, a striped navy and pink shirt, a red sweater tied around her neck, and a big red bow.
While several people considered there was nothing wrong about that outfit, others wrote in the comments that the girl "always look a mess." Some complained because Joseline has beautiful outfits most of the times, but Bonnie looked like "from a whole different era."
In January, Stevie J's baby mother uploaded another image of Bonnie in pink shoes, yellow pants, a pink tutu, a blue sweater, and a pink beanie hat with pompoms while holding a violin in front of her.
People again took to the comment section to share that Bonnie looked like an old homeless person. What most users request is that Joseline learns how to dress her daughter age-appropriately.
GIVING HER A REST
Thankfully, some recent posts have not attracted negative attention. In late-February, the TV personality posted a photo of Bonnie wearing glittery silver shoes and a beautiful pink dress that matched perfectly with her straw hat and her little purse.
She put on that to attend a school tea party, and followers finally agreed that the girl looked beautiful and that it was the way she was supposed to dress.
Please fill in your e-mail so we can share with you our top stories!