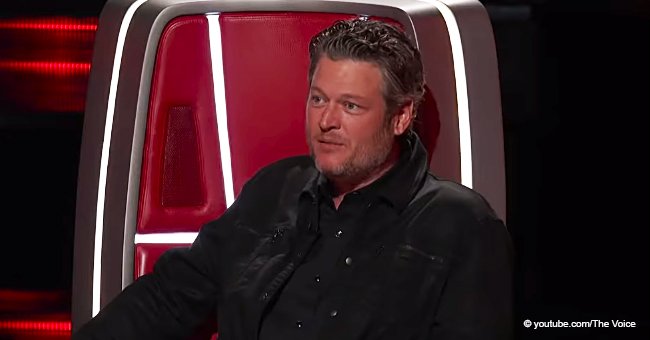 Blake Shelton Mocked for Not Recognizing Gwen Stefani's Song at a 'Voice' Audition

During recent blind auditions on "The Voice," one girl was so good Blake Shelton couldn't even recognize it to be one of his girlfriend, Gwen's songs.
"The Voice" is back, and it's sixteenth season started with a bang joined by new coach John Legend.
During blind auditions 15-year-old contestant Lili Joy took to the stage and showcased her unique voice with a song that probably took most a few moments to identify. Lili's performance was that good. Her rendition of Gwen Stefani's "Cool" with a ukelele in hand was magical.
Coach Blake Shelton turned his chair, "I have to," he said with a shrug as the audience cheered. But coach Kelly gave him a sideways glance, "You know this is Gwen, right? This is Gwen Stefani's song," she told Blake.
Unconvinced that Blake recognized the song "Cool" by his girlfriend, she shot him a look while he retorted with shocked surprise, "Are you serious right now? I know!"
Whether Blake turned his chair because of Lili's song choice or not, she still has an exceptional voice, and he may still be in trouble. Some fans also shared Kelly's point of view as on Twitter user commented:
However, when Blake appeared on "The Tonight Show Starring Jimmy Fallon," roughly a year ago, his tendency not to put two and two together when it comes to Gwen's songs also showed.
On the show, Jimmy and Blake played the game of "Name That Song," but Blake was not exactly eager. When the band played Dolly Parton's "Jolene" Blake had no idea what song it was.
The situation took a turn sideways when even Gwen's "Hollaback Girl" left him stumped. The look on Blake's face when Jimmy identified the song as Gwen's was priceless though.
It is safe to say that these things are not one of Blake's strong suits, and Kelly was quick enough to pick it up, but surely he has other qualities that more than compensate for that.
After all, Blake is not just a country singer and television presenter; he is also a songwriter and now the executive director of a brand new Hallmark Christmas movie.
Blake's current project may soften the heart as he is the executive director of a Hallmark movie about his song, "It's Time for Me to Come Home for Christmas" that he wrote with this mum, Dorothy Shackleton.
Interest in the song became a win-win situation for both Blake and his mum, as Dorothy got given a fantastic opportunity. New York publishers, New American Library invited her to co-write a romance novel along with Travis Trasher, based on the song, "It's Time for Me to Come Home for Christmas."
Meanwhile Hallmark approached Blake about making a Christmas movie about the song, and naturally, he couldn't pass the opportunity up.
Please fill in your e-mail so we can share with you our top stories!