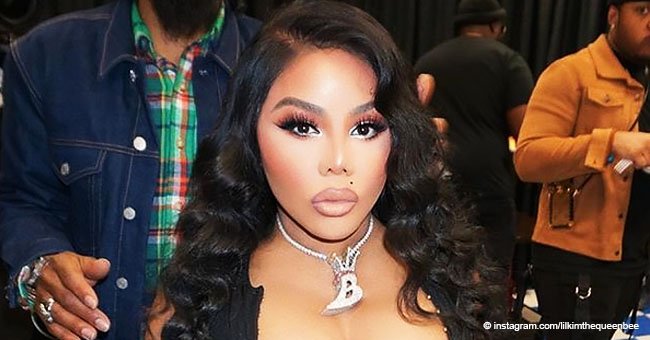 Lil Kim Shows off Sexy Dance Moves in Barbados While Filming Secret Project with Mya, 'TLC's Chilli

Rapper Lil Kim put on a dazzling display as she danced on stage in a racy outfit while filming a 'top secret' VH1 project in Barbados.
Lil Kim showed why she's the Queen Bee by flaunting her curvaceous figure on stage in Barbados.
The busy bee was in the paradisiacal Caribean island to film a VH1 project with Mya and TLC's Chili.
"We can confirm that VH1 is working on a top-secret project with Lil' Kim, Chilli and Mya. Details currently under wraps."
LIL KIM FLAUNTS A LOT OF CLEAVAGE IN NEW VIDEO
Lil Kim is not shy about showing off her body, and she thrilled the fans by wearing a sheer bodysuit that flaunted her impressive cleavage.
The bodysuit was red, and she matched it with denim Daisy Duke shorts, black Givenchy thigh-highs, and a stunning pair of red leather stilettos.
Shooting the new VH1 project, entitled "Girls Crew," will have Lil Kim, Mya and Chili island hopping in the Caribbean.
REUNION WITH MYA AFTER "LADY MARMALADE"
But Kim was not on that stage alone, she was performing alongside Mya Marie Harrison, with she collaborated on the massive 2001 "Moulin Rouge" hit, "Lady Marmelade." "Lady Marmalade" also featured Christina Aguilera and Pink.
MYA STUNNED IN A MINI DRESS
Lil Kim had plenty of sexy competition on stage with Mya, 39, rocking a red midi dress teamed with white, grey, and red Nike Vapormax 97 sneakers. TLC member Rozonda Ocelean 'Chilli' Thomas opted for a simpler look in a grey and black leopard patterned dress that flattered her lithe figure.
INTRODUCING MARC JACOBS' FIANCEE
Joining the three ladies on stage was designer Marc Jacobs' stunning fiancee, Charly 'Char' Defransesco, who offset the cleavage with his ripped six-pack.
Shooting the new VH1 project, entitled "Girls Crew," will have Lil Kim, Mya and Chili island hopping in the Caribbean. Some girls have all the luck.
FANS THINK LIL KIM'S GONE "PLASTIC"
Who remembers what Lil Kim looked like back in the day? The tiny, sassy performer has undergone quite a transformation, most of it under the knife.
Fans were shocked by Kim's appearance at The Blonds Fashion Show in New York City.
The general opinion is that Kim's face and breasts actually look plastic, and her features have been so altered as to make her look Asian. Or maybe she'd just trying to look like Nikki Minaj.
In a related story, Lil Kim recently shared an adorable photo of her daughter Reign wearing lo
ng braids and looking like a young model.
Please fill in your e-mail so we can share with you our top stories!