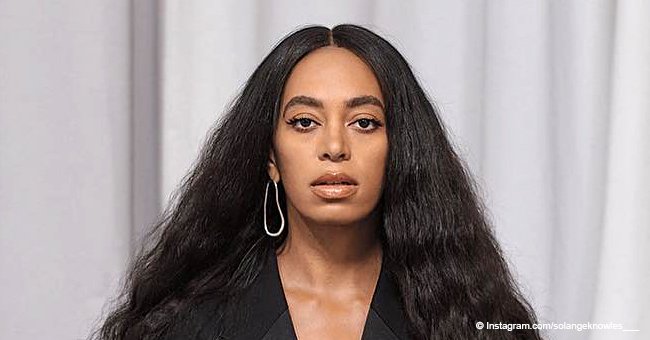 Solange Knowles Is a 'Black Barbie' in Set of Photos for Her New Album

Solange Knowles set pulses racing a few days ago after releasing several semi-nude pictures in anticipation of her new album.
The "Cranes in the Sky" singer flooded the internet on Tuesday with a couple of photos where she mostly posed semi-nude and pulled off a "Black Barbie" vibe.
The images were initially posted to the website BlackPlanet – along with tour dates and what looked like song lyrics – after which The Shade Room reposted them to Instagram.
Solange was naked in the first portrait pic, save for pieces of sheer latex covering her chest and arms. She placed one hand strategically to conceal her cleavage and wore her black hair parted down the middle.
Another photo showed the singer's bronzed backside, and although Solange's hair obscured the upper part of her back, it stopped just above her derriere, putting that part of her body on full display. The picture quality also gave Solange a glow reminiscent of Barbie dolls.
Solange going the extra mile and recording the songs in several far-flung locations.
There were other photos: one where her face was held behind a cage-like accessory and another snapshot of her dancing in nothing but lingerie and cowboy boots.
"Okay! #Solange came through with some gorgeous pics! Y'all think she's about to drop something?!" was the question posed in the caption.
And drop something she did. The 32-year-old Grammy winner released her new album "When I Get Home" at midnight between February 28 and March 1.
Solange had earlier followed the explicit pictures with several teasers on her Instagram page, sharing video snippets and actual music.
Then, on Thursday, at 10:27 pm, Tidal's Elliott Wilson tweeted the big announcement:
"Solange. When I Get Home. Midnight. All platforms."
"When I Get Home" comes after Solange's hit 2016 album, "A Seat at the Table." The latest project contains 13 songs, five interludes, and one intermission, and per Pitchfork, features contributions from Pharrell, Cassie, Gucci Mane, and a host of other artists.
Solange has been promoting "When I Get Home" for a long time now, and during one of such interviews last year, she turned heads in a racy metallic bodysuit.
The mom-of-one further touched on how different the new album is from her 2016 creation, describing it as "warm, fluid, and more sensual" as against "A Seat at the Table" that was her "punk album."
"When I Get Home" also had Solange going the extra mile and recording the songs in several far-flung locations, including New Orleans, Topanga Canyon, and Jamaica. It just goes to show excellence runs in the family and Beyoncé must be mighty proud of her baby sister.
Solange is married to music video director Alan Ferguson and has a 14-year-old son, Julez, from her first marriage.
Please fill in your e-mail so we can share with you our top stories!