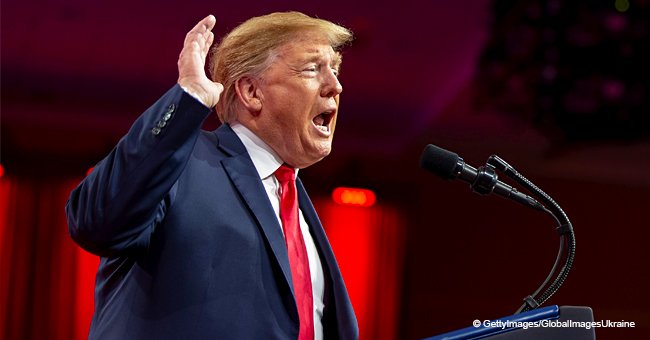 Trump Sparks Backlash, Talks about 'Massive Amounts of Birth Control Pills' Mothers give Daughters
President Donald Trump faltered in a speech when he displayed a clear misunderstanding of how birth control works.
Trump gave just over a two-hour long speech at the annual Conservative Political Action Conference that took place on Saturday.
He was proud to go off-script, but it ended up with some serious inaccuracies that Twitter was happy to point out.
Among other questionable statements, Trump showed a clear lack of knowledge regarding the use of birth control pills. He was referencing the border patrol situation.
He said:
"Mothers who love their daughters give them massive amounts of birth control pills, because they know their daughters are going to be raped on the way up to our southern border. Think of that. True story told to me by the Border Patrol. Think of how evil that is."
Resorting to a 2015 campaign talking point, Trump insisted that the immigrants from Mexico and other parts of Latin America were "rapists." Trump made it clear that his older speeches were "innocent compared to what's actually happening."
However, many on Twitter pointed out that in actuality, one can't really take "massive amounts of birth control pills." As those who are familiar know, you simply take one a day.
Several people made fun of the absurd claim. The bizarre statement trumped almost everything else that the president spoke about during the lengthy speech.
Yet there were many other things Trump said that was put under the magnifying glass as regards appropriateness and accuracy. For instance, he made fun of Jeff Sessions' southern accent by saying "I'm going to recuse mahhself."
The president also called his critics un-American for not agreeing with him, and that included Congress workers. Some of them, Trump said, wanted to carry out a "socialist takeover" that threatens the country's democracy.
He stated:
"We have people in Congress right now that hate our country... When I see some of the statements being made, it's very very sad. And find out — how did they do in their country? Did they do well?... Some will say it's terrible he brought that up, but I don't mind."
The president's speech was littered with the d-word with some b-words thrown in here and there. For example, he called the investigation into his campaign "bull[expletive.]"
Right now, special counsel Robert Mueller is looking into possible Russian collusion that allegedly took place during Trump's 2016 presidential campaign run.
So far, Trump's former campaign chairman Paul Manafort has been charged and arrested. He is now cooperating with prosecutors to uncover information that could help the case against Trump's team.
On Saturday, Trump also introduced his plan to sign an executive order that would compel universities to ensure the right to free speech. This came after a conservative activist was punched on the University of California campus last week.
Trump explained:
"We reject oppressive speech codes, censorship, political correctness and every other attempt by the hard left to stop people from challenging ridiculous and dangerous ideas. These ideas are dangerous. Instead, we believe in free speech, including online and including on campus."
Finally, Trump elaborated on his border wall argument. He spoke of an impending "migrant invasion" where he mentioned the birth control point. He also down cried the practice of foreign women coming to the US and giving birth.
Trump also received backlash alongside supporters who praised him for the work he did for black people. Vloggers "Diamond and Silk" tweeted out their words of support last week after meeting the president.
It read:
"He's done more for black people than any other President in our lifetime. There are those that write history but President Trump is making history."
The response came pouring in. Many wondered what exactly the president had done for black people. Like Trump's ideas on birth control, people were just not having it.
Please fill in your e-mail so we can share with you our top stories!