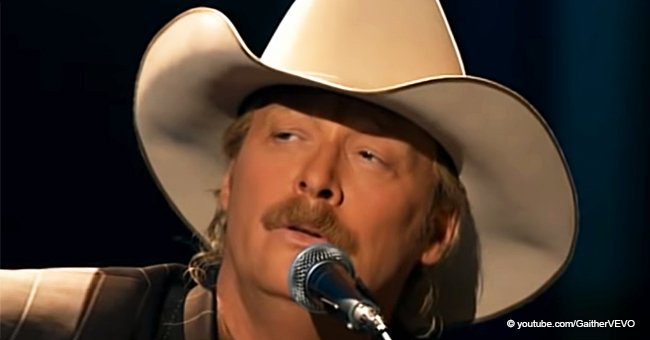 Video of Alan Jackson Singing 'The Old Rugged Cross' Gives Old-School Gospel Vibes to This Day
Years after it was first recorded, Alan Jackson's "The Old Rugged Cross," still brings nice gospel vibes to listeners.
Alan Jackson once again set country gospel music on fire with his rendition of the epic song "The Old Rugged Cross." Singing in front of a live audience, he brought a dynamic to the song that captured his audience as he led them in worship.
Lines from the song "I'll cherish the old rugged cross, till my trophies I last lay down; and I'll cling to the old Rugged cross and exchange it someday for a crown," had the audience singing along.
The song has been recorded over time by different artists like Jim Reeves, Johnny Cash, June Carter, Andy Griffith, and Ernest Tubb, with Tubb being the first to record it in the early 1950s. Since then, it has become a favorite among lovers of country gospel genre.
Alan became one of the artists who recorded the song in 2005, at a time he had his first album, he went on to become the foremost leader of the acclaimed song around the world.
The album topped the "Billboard Top Country Album Chart," and the "Billboard Top Christian Album Chart." It was described as "One of the most reflective gospel albums" by the critic, Jolene Downs, and got certified platinum by "RIAA."
"The Old Rugged Cross" was originally a hymn that originated from the Methodist Church. It was initially composed by George Bernard in 1912 but was finished in 1913 with the help of Charles H. Gabriel who worked on the harmony.
In 1915, it was published for the first time in "Heat and Life Songs for The Church, Sunday School, Home, and Camp Meeting," and became an anthem for evangelistic crusades. Over a hundred years later, it's still being sung and enjoyed by worshippers everywhere.
Alan before becoming a chart-topping star used to work in a Nashville mailroom. The tragic events of 9/11 changed his life, leading to him deciding to put what he was feeling into songs that would help him and others heal.
Today, the songwriter is ranked among the best in his field for his inspiring music and breathtaking performances. One of such performances is his rendition of "Precious Memories" at the Ryman Auditorium, Nashville, Tennessee.
Others include "He Stopped Loving Her Today," "Pop a Top/Choices," "Murder Music Row," and "Where Were You When The World Stopped." For each of these songs, Alan poured his heart and soul into them, making them iconic performances to remember.
Please fill in your e-mail so we can share with you our top stories!