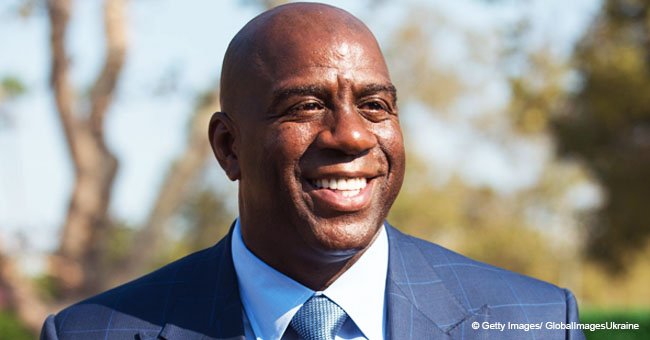 Magic Johnson Causes a Stir after Sharing Photo of His Wife, Daughter & Son EJ in Stylish Outfits
Magic Johnson is a proud husband and father, and he recently gushed about his stylish family on Instagram, sharing a pic that caused quite the stir among some of his fans. In the photo, Magic's son EJ is wearing a high-fashion dress.
Despite the public's opinion about his son's life choices, Magic Johnson doesn't hesitate when it comes to showering EJ with love and admiration.
In one of his most recent Instagram posts, the former NBA All-Star busted with pride over his family, sharing a pic of his wife Cookie, and their children: daughter Elisa and son EJ. The fashionista trio is currently in Paris for the Fashion Week, and they surely made head turns with their outfits.
Cookie, the matriarch of the family, rocked a see-through black dress with lace details, a fur coat, sandals, and a black clutch. Elisa, the youngest of the family, was a vision in all-white, donning a pantsuit with black and white heels and a Chanel bag.
EJ, always controversial for his fashion choices, didn't disappoint. He wore a short gray dress with shimmering details, knee-length black boots, a fur short jacket, and a black purse.
"@thecookiej and my kids @ejjohnson_ and @elisajohnson looking amazing at the Saks x CHANEL Dinner! They are attending the Givenchy, Alexander McQueen, Chanel, and Louis Vuitton shows for Fashion Week," Magic captioned the family photo.
Fans took over the comment section with mixed reactions to the shot. While some praised Magic and his good looking family, others attacked EJ for wearing "feminine" clothes.
"Damn shame I'm sorry but what was the parents showing/ teaching him. Be gay but why try to change your identity. I'm sick," wrote one user.
Another added, "Imagine being 17 feet tall and wanting to be a female. EJ is such a shame for the family."
However, many others came to EJ and Magic's defense, like one user who wrote:
"The ignorance is astounding! Magic's love and for his son is a message. Every time he posts a photo, he's breaking stereotypes and saving lives."
And another agreed, saying,
"Love you and your beautiful family Earvin! Stand tall and stay slay!"
Neither Magic or EJ are strangers to that kind of offensive comments or hate speech. Ever since EJ came out as gay and started living his truth in the public light, haters and trolls have always criticized his fashion choices.
EJ has become an icon for gender fluid people who are not afraid of wearing whatever they want and don't think clothes belong to a specific gender. "You should be able to create yourself and present yourself in any way that you want or feel comfortable," EJ recently told L'Officiel magazine. And added:
"On some days I'm more masculine—or more butch, as I say—and some days I'm super duper feminine. That could mean adding a wig with my makeup or my outfit. But I think it's such a gift and a blessing that I'm able to do that and transcend the gender norms. It's the most beautiful thing."
EJ has full support from his family, and Magic Johnson has expressed in several occasions that, although it wasn't easy accepting the situation at first, he came around after realizing that his son needed him.
"I think it's all about you not trying to decide what your daughter and son should be or what you want them to become," the LA Lakers executive told Ellen De Generes. "It's all about loving them no matter who they are, what they decide to do. When my son came out, I was so happy for him and happy for us as parents, and we love him."
He continued:
"E.J. is just a lovable guy. As I told him, I said, 'EJ, I love you, so I'm going to support you no matter what.' And I think it made him feel good — because it's one thing with mum. And it was another thing with me, because he wanted my approval. He wanted my support."
EJ recently received the Upstander Award at the Human Rights Campaign Foundation's Time to THRIVE Conference. The 26-year-old was recognized for his work to end LGBTQ homelessness, becoming the third member of his family to receive the award.
Five years ago, EJ presented his parents, Magic and Cookie, with the same accolade for being voices for equality and sharing their unconditional love and acceptance for him.
Please fill in your e-mail so we can share with you our top stories!