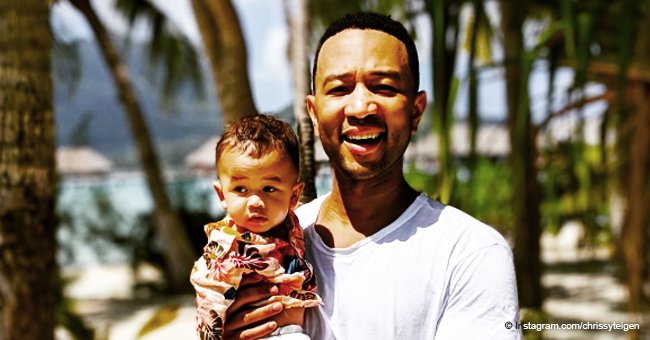 Chrissy Teigen Inspires 'Chalkboard Challenge' after Hilarious Pic of John Imitating Son Miles

Chrissy Teigen, the wife of singer John Legend, started a new Internet challenge which consists of detailing a few aspects of a person in a chalkboard.
The model and author has been married to John since 2013, and that have had two children so far: two-year-old daughter Luna and almost 10-month-old son Miles. Chrissy has been uploading photos to social media showing her family in the most adorable way.
In February, she did so by posting an image of Miles wearing a navy onesie posing next to a chalkboard that had several details about him, including his name, age, the things he likes and dislikes, and his favorite songs.
JOHN'S VERSION
That photo attracted a lot of attention and got several people's appreciation. However, Chrissy didn't stop there, and she uploaded a picture of John copying his son the following day.
The singer appeared sitting in the same way Miles was, holding his own chalkboard with details about him, and smiling at the camera just as if he was the grown version of Miles – which he is.
For the caption, Chrissy wrote, "wow they grow up so fast," finishing the joke in the best possible way. Soon after those photos hit the internet, netizens went wild and created the "#ChrissysChalkboardChallenge."
THE CHALLENGE
Several people have been using that hashtag to share photos of themselves or other people posing next to a board detailing some aspects of them. Among the first people who posted their version of the challenge was Twitter user @CourtUVA07.
Her challenge portrayed Fred, the user's father, sitting on a blue carpet holding up a rattle. The board read that he was 756 months old, that he loved his family, baseball, and eating and that he didn't like losing games snow, and Nicki Minaj.
It was so fun and clever that Chrissy herself retweeted the post and wrote, "oh my god I love him!!" After that, more people joined the challenge that has become viral.
PAMPERS' AD
Thankfully for the family's fans, it is not the first time that they post photos and videos of their children on social media. In early February, the couple took social media to share a cute Pampers commercial.
In it, John appeared changing Miles' diaper and singing "somebody's got a stinky booty." The couple's daughter, Luna, also appeared in the clip "assisting" her father.
At the end of the ad, "The Voice" coach Adam Levine is shown taking care of his baby Gio, and Chrissy gets into the house clearly confused and asks "must we do this every time?"
Please fill in your e-mail so we can share with you our top stories!