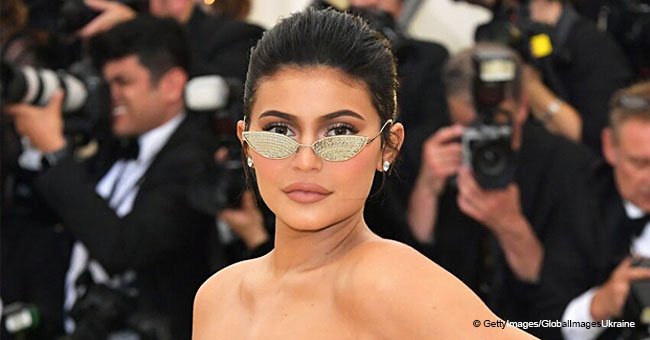 Kylie Jenner Faces Online Backlash After Forbes Label Her as Youngest 'Self-Made' Billionaire

Not everyone is happy with Forbes labeling Kylie Jenner as the youngest "self-made" billionaire. While no one is disputing her age or the amount of money she has, folks seem to have a problem with the term "self-made."
On Tuesday, Forbes announced in a tweet that Jenner, at 21, had become the "youngest-ever self-made billionaire, reaching a 10-figure fortune at a younger age than even Mark Zuckerberg" who earned the title in 2008 at the age of 23.
Immediately after the announcement, Twitter users took to the platform to protest the title, specifically the word "self-made."
A lot of people pointed out that the "Kylie Cosmetics" mogul was born into the Kardashian-Jenner clan and enjoyed the wealth and influence that came from being a part of reality TV royalty.
HELPING FORBES WITH THE DEFINITION
Dictionary.com offered a sassy response to Forbes' tweet, reminding them what the controversial term means:
"Haven't we gone over this?

Self-made: Having succeeded in life unaided."
Twitter user Linda Ortega also compared Jenner's new title to saying Prince William, the second in the line of succession to the British throne, is self-made.
"Self-made to me implies came from nothing," Ortega tweeted. "She capitalized on preexisting fame due to being part of a wealthy socialite famous family. That fame catapulted her success."
MORE BACKLASH
One person considered the negative influence of Forbes' decision on young children looking to achieve success while another implied Jenner had a lot of help:
"Not saying she did anything wrong. She took advantage of her opportunities. But dont act like her mom and her dad's name didn't get her in doors. Again born on 3rd base and claiming a homerun. Just say she is a young billionaire. Leave it there."
"Is it impressive what she's done? Absolutely. Should she have respect for it? 1000%. Is she self-made? Abso-freakin-lutely NOT," concluded Twitter user Ashley Alexiss.
BILLION-DOLLAR SURPRISE
In an interview with the financial publication, Jenner, who threw a lavish first birthday party for her daughter Stormi last month, revealed that she had no idea her company would grow the way it's done.
She started Kylie Cosmetics in 2015 without any prior business expertise and made $307 million in sales within one year.
Jenner, who owns 100 percent of Kylie Cosmetics, told the magazine she never envisaged becoming the youngest billionaire in the world.
"I didn't expect anything. I did not foresee the future, but [the recognition] feels really good. That's a nice pat on the back."
DEFENDING THE TITLE
Forbes first predicted that Jenner might seize Facebook creator Zuckerberg's youngest billionaire title last July and even then, netizens were outraged when they described her as "self-made."
Defending the label last month, Jenner insisted in an interview with PAPER Magazine that the "self-made thing is true." She revealed that her parents, Kris and Caitlyn Jenner, "cut her off at the age of 15" and that she hasn't received any money from them since she was a teenager.
"My parents told me I needed to make my own money, it's time to learn how to save and spend your own money, stuff like that," said Jenner. "What I'm trying to say is I did have a platform, but none of my money is inherited."
Please fill in your e-mail so we can share with you our top stories!