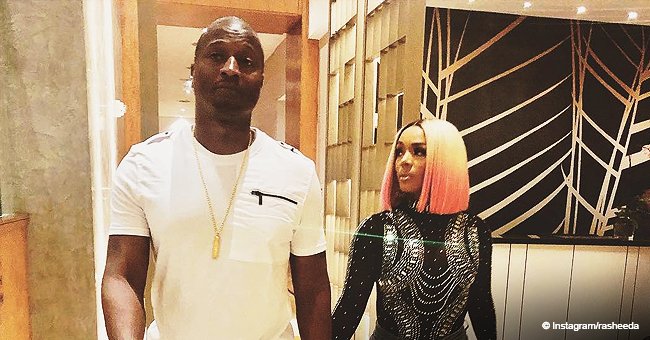 Rasheeda Frost Glows in Latest Photo with Husband Kirk after Forgiving His Cheating Scandal
Rasheeda Frost continues to flaunt her relationship with husband Kirk Frost after forgiving his infidelity last year, and it looks like she's living her best life.
The reality star/entrepreneur has been the target of online backlash since April when she let Kirk back into her life, but she continually shares photos and videos to prove that the Frosts are doing just fine.
In a recent picture Rasheeda put up on Instagram, the duo gave off "couple goals" vibes, holding hands as they headed out to what was probably an event.
The self-proclaimed Boss Chick glowed in a bedazzled black top and ripped denim shorts that put her things and shapely legs on display. She rocked the outfit with pink hair, a tiny clutch, and sparkling stilettos. Kirk, meanwhile, sported an all-white ensemble, his only bling being a wristwatch and gold neckpiece.
"Rollin In wit @frost117," Rasheeda captioned the post, tagging Kirk's Instagram and including a couple of love emojis.
As with almost every picture of Kirk that Rasheeda has put up since he was caught cheating, fans in the comment section were divided over the "Love & Hip Hop Atlanta" couple's marriage.
Rasheeda went all out to blame Jasmine while saying nothing to her husband
"Thank you for showing us what hard work, redemption, and forgiveness looks like!!! Love this!!!" raved a fan who sprinkled their comment with hashtags like "Black Love," "Family First," and "Marriage" and belongs to the group in support of the "Pressed" owner forgiving her cheating spouse.
Other folks, however, were not so nice in their comments, openly criticizing her for taking Kirk back.
"Just my opinion. I can't see this relationship going further. He's done too much. She needs someone better than that. I don't understand why women tolerate this kind of disrespect. If Rasheeda did this to him he would have been left her. Sorry I can't stand kirk he's disgusting."
Rasheeda and Kirk, who have been married since 1999 and have two sons, almost got divorced in 2017 after Kirk was caught cheating with Jasmine Washington.
Kirk's indiscretion included fathering a child with the former stripper, and last year, she attempted to spill the truth to Rasheeda.
The result was a nasty confrontation during the "Love & Hip Hop Atlanta" reunion that aired in July. Rasheeda went all out to blame Jasmine while saying nothing to her husband, who was also present.
That move earned her backlash from social media users who were mad that she put all the blame on Jasmine when it was her husband who broke his vows to her.
Despite public reaction, the former rapper stuck with her decision to give Kirk a second chance, showering him publicly with professions of love and being there for him in tough times.
Please fill in your e-mail so we can share with you our top stories!