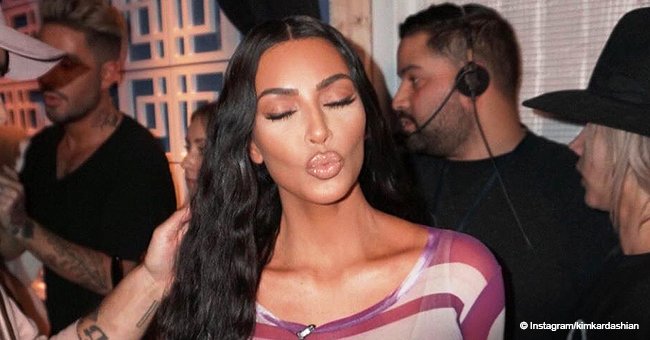 Kim Kardashian's Daughter Chicago Is a Mini Fashionista, Wearing Yeezy Heels and $17K Hermés Bag

Chicago West might only be a year old, but she's already being given a taste of luxury. On Friday, her mom shows off the fashionista sporting a bag worth $17,500, and a pair of heels worth almost $600.
In her snap, Kim Kardashian West shared North wearing one of her $592 dollar heels from her dad's own brand, Yeezy, while carrying an adorable mustard-colored Hermes Kelly bag which retails at $17500.
Kim asks her daughter in the video where she was headed, as Chicago confidently walks in the pair of neon heels. When she picks up the mustard bag, the mother asks if she wants her purse to go with it. She confirmed right there, that the mini bag worth $17500 was indeed Chicago's.
It turns out, her Hermes is only one of the many luxury items part of her wardrobe, as she also has an extensive collection of her dad's brand. Kardashian-West would often show off bits and pieces of her little girl's closet, boasting that she "literally has the best selection."
Aside from shoes and bags, of course, the little girl has to have her own version of her parents' car, the Mercedes Benz G-Wagon. For her first birthday, her aunt, Kourtney Kardashian, gifted her with a customized neon green Mercedes G Series SUV, which is exactly the same as the one Kim got from Kanye for her own birthday.
From her grandmother Kris, Chicago got a Louis Vuitton music box, which is available for purchase at $3350.
At a year old, Chicago is already getting the best of everything, and with no surprise. After all, if you're the youngest daughter of two powerful millionaires, you can expect to get nothing but the best out of the world.
Please fill in your e-mail so we can share with you our top stories!