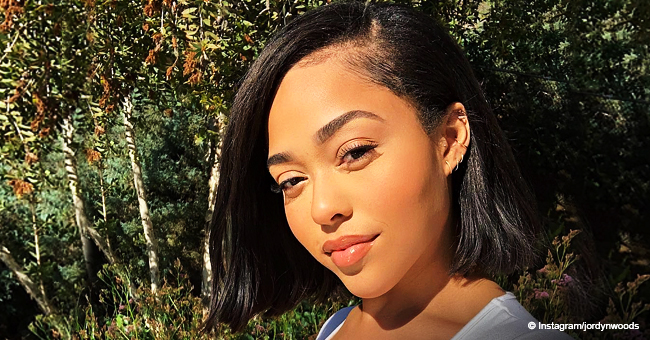 Jordyn Woods Returns to Instagram, Shows off New Look after Khloé & Tristan Drama

Jordyn Woods came under fire after news broke that Tristan Thompson had cheated on Khloe Kardashian with her. The model slash makeup mogul has now made an Instagram comeback.
Woods, who has a rather large following on social media, shared two photos of herself on Friday, March 8, via Instagram. The 21-year-old flaunted her new look with her long hair styled into cropped blond tresses.
She captioned the posts with an inspirational message saying:
"If you're reading this, it means God has given you another day to wake up and be grateful and better than you were yesterday."
The change comes after she went AWOL on Instagram following her cheating scandal with Tristan Thompson. Thompson, who can't seem to stay faithful, was spotted making out heavily with Woods at a club.
The sports star was at the receiving end of heavy criticism late last year after he was caught cheating on Khloe Kardashian. The reality star, however, remained by him for the sake of their newborn daughter, True.
That makes Thompson's new scandal with Jordyn, a close acquaintance of the Kardashians, a rather shocking discovery. It was no surprise when Khloe chose to end the relationship.
Then all eyes turned on Jordyn, whom, until then, was Kylie Jenner's best friend! Every member of the Kardashian-Jenner clan turned their backs on the young beauty with Kim even going on to unfollow her on Instagram!
Jordyn, however, laid claims that she had only kissed the basketball star when she was leaving his house with a group of friends. The lie got an infuriated Khloe making a public backlash at her. The 34-year-old, however, ultimately blamed her baby daddy for the scandal in a March 2 tweet. It reads:
"What's been harder & more painful is being hurt by someone so close to me. Someone whom I love & treat like a little sister. But Jordyn is not to be blamed for the breakup of my family. This was Tristan's fault."
Jordyn has shown great remorse following the cheating scandal and has even had positive reactions from her followers as she made a return on social media.
According to reports, Kylie and Jordyn are back together and were even spotted hanging out together. Kylie and baby Stormi were seen out on breakfast in the Calabasas area with Woods.
Please fill in your e-mail so we can share with you our top stories!