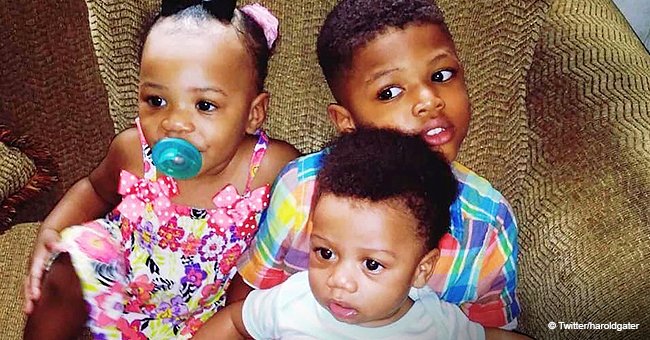 2 of 3 Children Drown after Mother Ran into Store & Left Them in SUV That Rolled into Creek

A Mississipi mother has allegedly been charged with negligent manslaughter after two of her three young children drowned when the locked SUV they were sitting in rolled into a creek.
A horrific tragedy in Leland, Mississipi, has once again outlined the need for constant vigilance and care where children are concerned.
On March 9, 2019, a 25-year-old mother of 3 stopped to pick up some shopping and left her children locked in the SUV. When she returned, the vehicle was gone, and her children with it.
THREE CHILDREN IN DEADLY DANGER WHILE MOM SHOPS
According to the Leland Police Department, Jenea Monique Payne has gone into a Stop-N-Shop and left her three children - sons Steve, 4, Rasheed, 1, and daughter Raelynn,2 - locked in her Nissan Pathfinder.
When she left the store, her SVY was gone. The vehicle had rolled into the nearby Deer Creek and was sinking fast.
The two children were declared dead at the scene by the Washington County Coroner.
A DESPERATE FIGHT TO SAVE THREE LIVES
First responders at the scene jumped into the creek and attempted to break the windows of the SVU in order to remove the children to safety, but the vehicle was sinking rapidly, and only one child, Raelynn, was saved before the rescuers had to swim to safety.
TWO LITTLE BOYS DROWNED IN SUV
Three hours later, a rescue dive team finally extracted the bodies of the two little boys from the sunken vehicle. The two children were declared dead at the scene by the Washington County Coroner.
GRIEVING MOTHER CHARGED WITH MANSLAUGHTER
On March 12, 2019, Police Chief Marcus Davis revealed that the decision had been made to charge Payne with two counts of negligent manslaughter, and one count of child neglect:
"She ended up leaving three minors unattended for a length of time when she went into a store. That's illegal in itself. That was part of the negligence that led ultimately to their deaths."
Payne, who has been released on bond, may face up to 40 years in prison if she is convicted on the two counts of manslaughter for the deaths of her sons, Rasheed. and Steve.
This tragedy is only one of a recent series of child deaths due to their mother's inattention or outright neglect.
DROWNED WHILE MOM CHATTED ON PHONE
Like little Rasheed. and Steve, baby Rosie was left alone by her mother. Sarah Elizabeth Morris, 35, left her 18-month-old twins alone in the bathtub while she chatted on the phone with her partner for 50 minutes.
When she returned to check on the children, Rosie had drowned. According to the investigators, Morris then had another 7-minute phone conversation before asking for help.
Morris will be facing charges of manslaughter and child cruelty for the death of her baby daughter, Rosie.
Please fill in your e-mail so we can share with you our top stories!