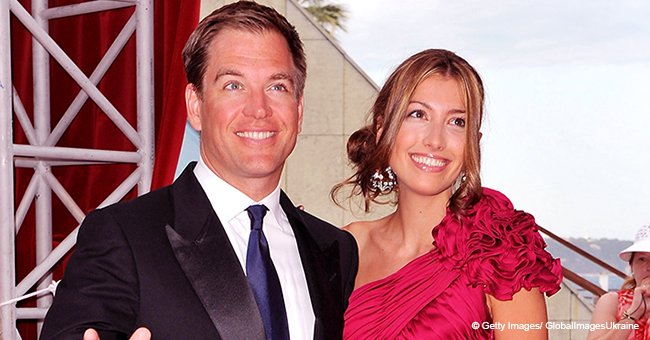 NCIS Star Michael Weatherly's Son Is All Grown up and Looks Exactly like His Dad

No one can overlook the charismatic Anthony DiNozzo of the popular NCIS series, Michael Weatherly who plays this handsome main character.
Michael Weatherly was not successful in the first marriage, during his youth he was engaged to an American actress and his co-star in the television series "Loving" and "The City2", Amelia Heinle in 1995.
Even though his first marriage lasted only about 2 years, the actors share a son named August, and he is about whom we are about to speak since the young man is as equally good-looking as his father.
Although August inherited more of his mother's characteristics, Amelia, the young man became a handsome man, like his 50-year-old father, he has the same steaming look and brazen vibes of Tony DiNozzo.
In fact, as August seems to be a young version of his father, we believe he would be a perfect young DiNozzo at NCIS if they needed him for the series.
Weatherly first appeared on our TV screens in Dark Angel in 2000 as Logan Cale, then going on to make an impression of the cheeky Anthony DiNozzo in NCIS from 2003-2016.
He then headed the cast of his own show, Bull as Dr. Jason Bull in 2017. The series is about a trial scientist whose expertise lies in picking juries.
After the failed marriage with Amelia Heinle and the engagement with Jessica Alba, the NCIS star met another woman. He married Bojana Jankovic in 2009, and the two are happily married now.
The two share two beautiful children: the daughter Olivia and her son Liam. Michael admitted that he had had difficulty managing professional and family life, so after leaving the NCIS, he had the opportunity to spend more time with his wife and children.
Weatherly admits that his current happiness is a product of learning from setbacks, he also enjoys a happy life in Los Angeles with his wife and calls himself "a fool" because he is ready to do anything for his family.
In a similar story, if you are a fan of the Criminal Minds television series, you will surely remember Thomas Gibson, who played the role of Aaron Hotchner for so many years.
Although Gibson was fired from the popular long-running television series, we can't forget everything he did to his fans as he played Agent Hotchner, the longtime BAU Unit Chief on Criminal Minds.
However, today we have not come to talk about the altercations that caused the departure of Gibson from the recording set from which he delighted the viewers for so many years. This time we want you to take a look at his family.
Please fill in your e-mail so we can share with you our top stories!