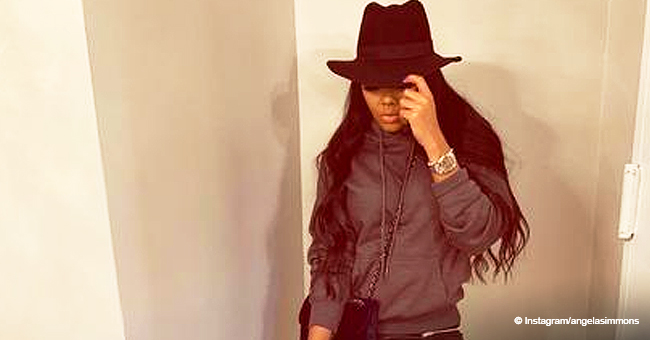 Angela Simmons Raises Eyebrows, Dressing à La Mj after Saying Ex Sutton Left Son 'in Great Hands'
Reality star Angela Simmons raised eyebrows when she shared a photo that reminded people of Michael Jackson's fashion style.
"Growing Up Hip Hop" reality star Angela Simmons is being questioned by fans about a photo she posted on Instagram on March 6, 2019.
The photo, which shows the celebrity striking a pose in a black hat has strong overtones of Michael Jackson's style.
STARS DIVIDED OVER "LEAVING NEVERLAND"
Fans have questioned if Simmon's post is a gesture of support to the late King of Pop, whose legacy is once again being questioned after the release of an HBO documentary about his alleged pedophilic activities.
Several stars and celebrities have manifested their opinions about "Leaving Neverland," with some like Joseline Hernandez, Sia Voices manifesting their support, and others like Oprah Winfrey and Mike Tyson questioning his innocence.
Simmons, who is the mother of a young son, has not commented on the Jackson controversy.
THE DOCUMENTARY AT THE CORE OF THE CONTROVERSY
"Leaving Neverland" has been at the center of heated debate since it was presented at the Sundance Festival.
The documentary focuses on the claims of two men, Wade Robson, and James Safechuck, who allege they were sexually abused as children by Michael Jackson. The harrowing 4-hour documentary details the men's abuse and their grooming and seduction at the hands of the King of Pop.
A TRIBUTE TO MICHAEL JACKSON?
The photo that has raised the furor over Simmon's supposed support of Jackson shows 31-year-old in a gray hoodie, a zipper-embellished leather pants, and black platforms.
The look is finished off with a rakish black Fedora, which she is tilting over her face, in a typical MJ pose. Simmons, who is the mother of a young son, has not commented on the Jackson controversy.
RAISING HER BABY SON ALONE
Angela Simmons is still reeling after the death of her ex-fiancé and the father of her son, Sutton Tennyson.
Tennyson was murdered at the age of 37 in Atlanta, on November 3, 2018. Tennyson, who had a criminal record, had served time in prison in 2000 for carrying a concealed gun. He had also been involved in credit forgery and identity theft.
In a recent heartfelt post, Simmons thanked Tennyson for giving her the gift of their son, and leaving him in "great hands."
ANGELA SIMMON'S TREASURED BABY BOY
Angela Simmons shared a sweet photo of her 2-year-old son Sutton Joseph Tennyson on her Instagram account after the toddler had a haircut.
The reality star posted before and after photos of the gorgeous tot, showing his beautifully trimmed mop of curls to advantage.
Simmons has been focusing on her son, and on keeping her promise to her deceased ex that she will be both mother and father to his orphaned son.
Please fill in your e-mail so we can share with you our top stories!