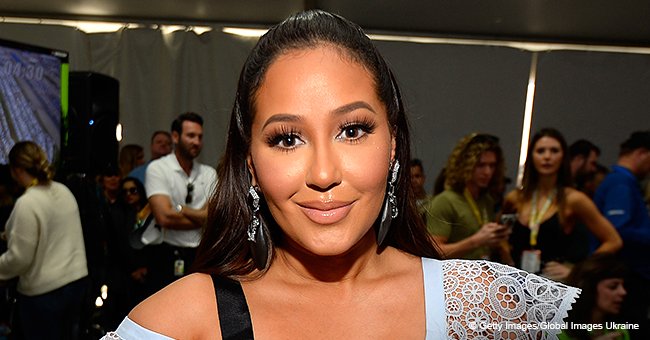 Adrienne Houghton's Rendition of the National Anthem at NASCAR Fontana 2019 Sparks Heated Debate
Adrienne Houghton elicited mixed emotions when she sang the National Anthem at a NASCAR event. Some thought she gave a "horrible" performance while others praised her for a good job. The clip from her performance will help you decide.
It's not every day that fans get to listen to Adrienne Houghton's singing voice since she's mostly hosting these days on "The Real." But she recently drew attention to her vocal cords when she was tasked to sing the National Anthem at NASCAR'S Auto Club 400 race. But it probably wasn't the kind of attention she was expecting.
Adrienne took the stage at Auto Club Speedway in Fontana, California armed with her experience as the former lead singer of the R&B girl group 3LW and later, the founding member of The Cheetah Girls. But when she began to sing the notes to the country's anthem, fans had mixed emotions about her performance.
In a clip shared by The Shade Room, comments flooded the post, most of them debating on how she did.
"She sound horrible I'm sorry," one user commented while another critiqued, "I love Adrienne, but this was a mediocre performance."
More negative comments followed.
"Who died?! The only one in 3LW that can sing is Naturi"
"I could do so much better"
"she never was a strong singer though"
"i actually watched the race yesterday. it sounded bad then too"
Others also noticed how Adrienne seemed to be running out of breath. One person suggested it might have been the reason her performance fell short.
"It wasn't bad she just needed to work on breathing better."
Fergie's name popped up a few times too since she famously bombed her performance of the National Anthem during an NBA All-Star game. In comparison to the Black Eyed Peas singer, Adrienne's version, they said, wasn't so bad.
However, there were those who didn't find anything wrong with her performance at all and even praised her for it.
"She did it beautiful and the SIMPLE version... simplicity is key"
"Wow her voice is amazing. Beautiful vibrato"
"Adrienne Houghton can sing. All she needs is a recording contract and she is gonna tour and everyone will pay to see her on stage."
"She did a good job. Stop hating just to be hating."
"She sang the song the way her voice would allow for her to sing the song , ya clearly dont know how singing voices work. Not every singer can hit the same notes so you MODIFY the song to fit your INDIVIDUAL voice. Everyone who sings this anthem sings it differently, and they are all covers."
Meanwhile, others chose to pick on Adrienne's appearance and not her voice. People debated whether she was pregnant or just fat.
Adrienne has been very vocal about her weight issues in the past. She revealed in a clip while eating a potato pie with her co-host, Tamera Mowry that she suffers from hypothyroidism. The condition also known as Hashimoto's disease slows down the body's functions and encourages weight gain.
Apart from her weight problems, Adrienne is also having difficulties conceiving a child. And these talks of her looking pregnant aren't helping at all. She confessed in 2017 that she wished people were more sensitive to others who are going through what she is.
"As an audience, we should be sensitive to the fact that everybody doesn't get pregnant right away. I think for myself, I thought it would happen so easily for me and it just hasn't happened that way. I have had to come to peace with that, that it will happen when it's God's timing and I believe in that and I have faith in all of that."
Adrienne is married to musician Israel Houghton who has four children from his previous marriage.
Please fill in your e-mail so we can share with you our top stories!