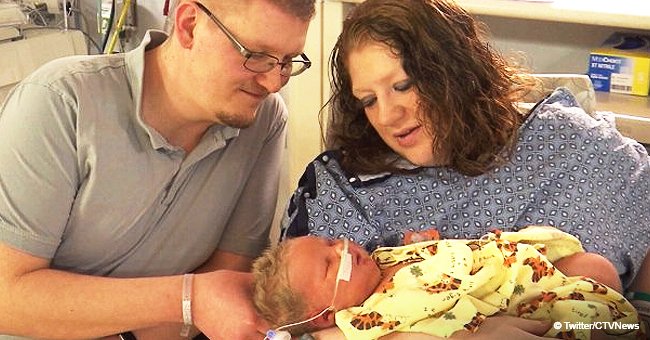 Mom Sets Record by Giving Birth to 15-Pound Baby: 'I Felt like I Was Hit by Two Tractor-Trailers'

A New York woman gave birth to a 15-pound-5-ounce baby girl, thought to be the biggest ever born in the state.
Joy Buckley of Corning New York made history by giving birth to a baby girl who is considered the heaviest baby born in the Empire State.
The baby was born at Arnot Odgen Medical Center in Elmira on March 12, 201, and the news of her arrival has gone viral.
"I felt like I was hit by two tractor-trailers. It was pretty violent. She got stuck under my ribcage."
A HEAVYWEIGHT CHAMPION OF THE STATE
Baby Harper Buckley startled the staff at the Medical Center by weighing in at a whopping 15 pounds, and measuring 59 cm.
Joy was attended by a team of three doctors who performed a C-section to deliver the hefty baby safely.
An investigation into records is underway to discover if Harper is indeed the biggest baby born in the State's history.
BABY HARPER IS IN NEONATAL CARE
Harper, who was born the size of a six-month-old baby, suffered some trauma from the birth and has been placed in neonatal intensive care. The baby was breathing with the help of an oxygen machine but is expected to be released from the hospital soon.
JOY BUCKLEY'S BIG BABIES
This is Joy's, second big baby. Her first child, a boy, was born 2 years ago, also through a C-section. The baby was a very respectable 11 pounds but is a lightweight compared to his little sister.
NEW YORK HEALTH DEPARTMENT INVESTIGATES CLAIM
A spokeswoman from the New York Health Department has revealed that an investigation into records is underway to discover if Harper is indeed the biggest baby born in the State's history.
Harper is expected to be home with her doting parents soon, and her mother revealed that big babies are common in her family and that curiously, they usually end up being petite adults.
A TINY PREEMIE DEFIES ODDS
Harper Buckley would look like a giant placed next to tiny Hallie Dillon who was born weighing just 1lb and 2ozs - 1/15th of Harper's body weight.
Hallie who was born prematurely and was so fragile that her brain was visible through her skin.
Hallie's mother, Cheri Price, 22,.went into labor at 23 weeks and six days, and doctors feared that the baby might not survive.
Halie is not the smallest baby to survive, but she was still very tiny and suffered from a collapsed lung, and endured seven minutes without breathing.
"When Hallie was born, it sounds band to say it, but she looked like a red alien."
A year after her birth, Hallie has recovered from her small beginnings and is as boisterous and happy as any other little girl her age.
Please fill in your e-mail so we can share with you our top stories!