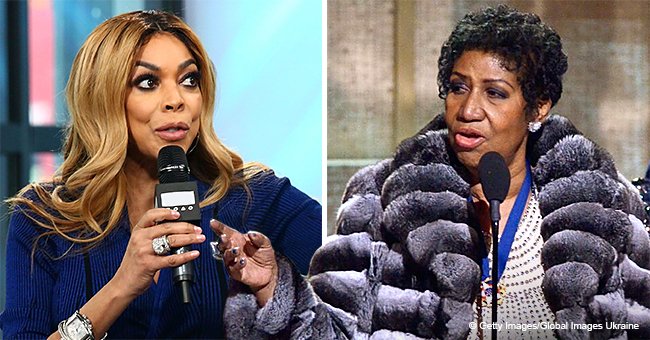 Aretha Franklin's Family Slams Wendy Williams for 'Inaccurate' Comments about Documentary
Wendy Williams is the subject of a lengthy statement issued by Aretha Franklin's estate after she criticized the late singer's upcoming concert documentary. The statement slams Williams for spreading "fake news" with her "inaccurate" comments.
Wendy Williams has been slammed by Aretha Franklin's family for her recent comments against the late singer's new documentary.
Ahead of the release of "Amazing Grace," a film shot at a Los Angeles church in 1972 while Franklin was recording her gospel album, Williams gave quite a mouthful about it in her show.
Among other things, Williams questioned the timing of the film's release, insinuating it was an effort to pay Franklin's unpaid bills following her death. She also criticized the concert documentary's quality by saying,
"Nobody's going to the movies to see a one-shot deal, like black-and-white."
Furthermore, the outspoken talk show host noted the Queen of Soul's unglamorous appearance, making for a lackluster appeal. She concluded that Franklin's family ultimately mismanaged the singer's affairs.
"When you don't have real professional people doing real professional things for you, sometimes you lose out."
In response to Williams' comments, Franklin's estate released a long statement defending the film and its merits. It called the host's remarks "inaccurate" and indicative of her lack of knowledge about the film.
To correct Williams' notion that the film was shot with one camera in black and white, the statement revealed director Sidney Pollack actually used five and in full color. As for Franklin's appearance on the film, they reminded Williams that it was shot during an era far from today.
"1972 was the era of Black Power and Black Is Beautiful. In her short natural hair and simple makeup, Ms. Franklin was in step with the times and appropriate to the occasion. There was no 'showgirl glamour,' no 'pressed hair' and no 'eyelashes' – the lack of which Williams ridiculed on her program. The simplicity of the presentation gives 'Amazing Grace' its power."
Franklin's family also addressed the issue Williams' raised concerning the singer's affairs.
"Contrary to Williams' derisive reference, there is no 'Cousin Junebug' making decisions for the Estate."
And as an answer to Williams' claims that the documentary was a means to pay Franklin's debts, the statement purports,
"This is not true. It is only through the approval of the Estate and the efforts of the film's producers that it is finally being seen. The public rollout for "Amazing Grace" – which includes screenings at African American museums and black churches this month – has received support from African American pastors and fans across the country. And while Franklin had initially imposed an injunction on "Amazing Grace," her objections had nothing to do with its quality; negotiations were incomplete at the time of her death."
In conclusion, Franklin's family accused Williams of propagating "fake news."
"At a time when the media is fighting a battle against "fake news," Williams' continues to perpetuate false facts, and her commentary was irresponsible."
Williams has yet to comment on the statement against her, though this kind of retaliation isn't new to her. In fact, just a few days ago, Howard Stern slammed the television star after she shaded him and his new book saying he "lost his shock jock edge" by being "so Hollywood."
In his radio show on SiriusXM, Stern lashed out at Williams and accused her of being a "jealous [expletive]."
"You are nobody to me," he adds. "You'll never be me, Wendy. You'll never be me. You can pretend to be me, you can pretend to be like me, but you're not." He continued by diminishing her to a "fly" who had none of his talent nor his wit.
It seems like Williams is quite the hot topic herself nowadays, just a few weeks after returning from a month-long hiatus. The host sat out the first few weeks of the year due to a recurring sickness. Upon her return, Williams proved she was back by delivering her trademark scathing opinions on controversial celebrities such as Jussie Smollett and Lori Loughlin. She thinks Smollett is guilty and that Loughlin should go to jail.
Please fill in your e-mail so we can share with you our top stories!