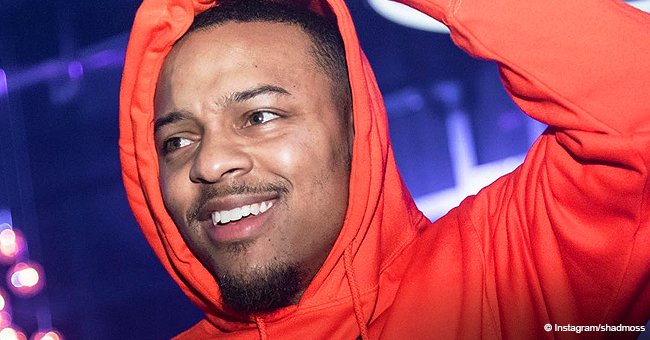 Bow Wow Gets Super Creative When He Does Daughter Shai's Hair before School in Adorable Video

Bow Wow and his daughter, Shai, have been melting hearts across the internet after a video showed the rapper fixing his daughter's hair.
Save for that one time when Bow Wow (birth name Shad Moss) denied that he welcomed a daughter with ex-girlfriend Joie Chavis, the former child star seems to be enjoying fatherhood and never hesitates to share precious moments with fans on social media.
Recently, Bow Wow went on Instagram Live to show off his hairstyling skills. The rapper and his seven-year-old daughter, Shai, stood before a bathroom mirror as he worked through her curly hair with a brush.
While things were initially rough between Chavis and Bow Wow, the exes seem to have come full circle
Although Bow Wow seemed to think he was doing a great job, his mini-me was not so convinced.
"You're not brushing it out though," she countered. "You don't even know how to do my edges. Can I do my edges?"
At one point, Bow Wow was about to apply a product to Shai's curls when she yelled:
"Daddy, do not put that in my hair!"
"This is what I put in my hair," he responded softly. "You forget your daddy had long hair."
The adorable daddy-daughter exchange, captured by The Shade Room, had many fans gushing in the comment section. Others couldn't help laughing at little Shai's facial expressions and lack of trust in her father's skills.
"Lmao can't wait to be a daddy to a smart mouth beautiful baby girl" ~ @twennymineteen
"I love to see a father doing his daughter's hair; my son does his daughter's hair; it is so cute. It makes them seem so close" ~ @angelshelton321
"I love this, so cute love to see dads with their Daughters...such a beautiful thing" ~@lovelyred3916
Bow Wow, 32, never misses an opportunity to show off the close bond he shares with his daughter, like earlier this year when they thrilled fans with a freestyle session.
"My daughter got barz though," the "Bounce with Me" rapper raved of Shai, who was perched atop his shoulders in the adorable clip.
Bow Wow and his baby mama Chavis welcomed their daughter on April 27, 2011. The dancer/video vixen has since given birth to another child, a son named Hendrix with rapper Future.
While things were initially rough between Chavis and Bow Wow, the exes seem to have come full circle, with the rapper penning a lengthy emotional tribute to appreciate his baby mama last month.
Please fill in your e-mail so we can share with you our top stories!