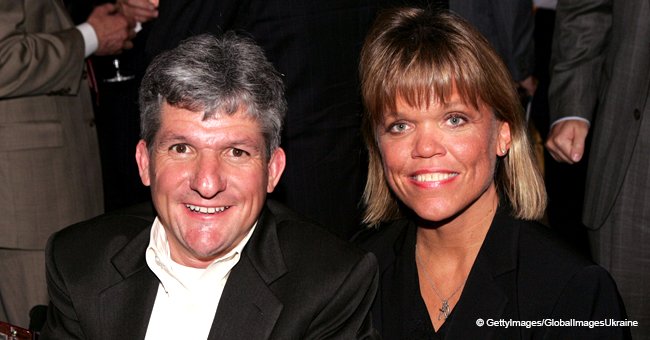 LPBW Fans Are Wondering Who Will Get Remarried First, Matt or Amy Roloff

The fans of the reality show "Little People, Big World" are curious about who will be the first to remarry between the former lovers, Matt Roloff and Amy Roloff.
With a humongous amount of audience around the globe, the captivating reality show, "Little People, Big World" features a farm, the Roloffs (Amy and Matt and their four children Jeremy, Molly, Jacob, and Zach) in their 30 years marriage.
Although their happy-ever-after hit rock bottom in 2016, the duo has ever since been in new relationships. Rumors have it that the pair has been engaged, but with the way they have each flaunted their new partners, it seems to be untrue. Fans have pondered who will be the first to exchange vows with their new lovers.
It is no surprise that Amy and Marek are all curled up in their love affair, they even posted pictures together recently on Instagram, with comments from both ends expressing their expectations for marriage from fans.
Notwithstanding, ex-husband Matt Roloff is also being smitten by his lover, Caryn, who he began dating after his split with Amy. She even appears on the new edition of the show to premiere in April.
Although Caryn seems interested in marriage, her man hasn't mentioned it. Matt said he "definitely would not get married again," leaving fans to perceive Amy as the first that will be saying "I do."
Caryn's consistency on the show makes fans wonder if there will eventually be a marriage for both of them, which may equally lead to Amy and the grandchildren being off the show.
According to reports, both Matt and Marek seem to have buried the hatchet, as they spend time together.
Conversely, Amy does not share any form of interaction with Caryn. The fact that the latter was a former employee on the family's farmhouse, and a personal assistant to her ex, not forgetting that she ended up marrying her former husband makes their relationship full of complexities.
Before their divorce, there had been constraints on their marriage, as Matt was charged a couple of times with drunkenness while driving, while their son, Jacob held his parents responsible for his stunted growth. The pair grew bored of each other, being alone after their kids had all left home.
Thus they both grew weary of their companionship. Towards the talent of their relationship, Matt suffered from a condition known as diastrophic dysplasia, this confined his movement and possibly acted as a catalyst to their divorce.
Please fill in your e-mail so we can share with you our top stories!