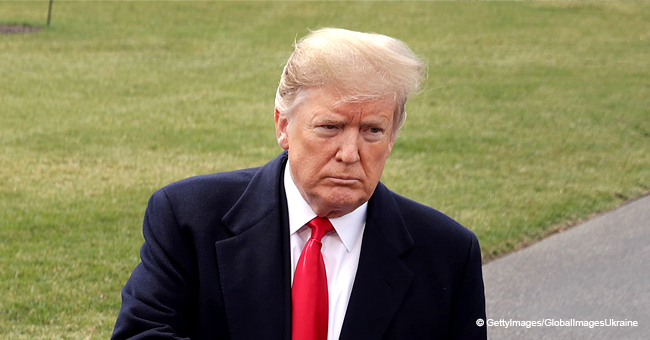 Bizarre Video of Donald Trump Starting a Press Meeting by Saying 'No Collusion' Instead of 'Hi'
It was a day filled with a series of odd moments for Trump beginning with a tweet about Kellyanne Conway's husband and Republican lawyer George Conway.
Conway had earlier posted tweets questioning Trump's mental competence.
On the same day, Trump stopped on the White House lawn before departing to give a speech in Ohio, to take questions from the press.
But instead of greeting the media with "Hello," Trump approached the group of reporters by saying, "No collusion! No collusion!"
Later that day in Lima, Ohio, Trump addressed workers at a General Dynamics plant which manufactures tanks for the U.S. military and during his speech, he called an employee up on stage amazed at how young the man looked and said:
"Whatever you're eating, keep eating it."
During the same speech, Trump discussed what he said were U.S. military triumphs over ISIS in Syria and said:
"We killed 'em all, we killed 'em all, we killed 'em all, we killed 'em all. Bad people."
In another baffling moment during the speech, Trump complained that the late John McCain never thanked him for approving his funeral.
In a 2017 interview with The New York Times, Trump repeated 16 times that "no collusion" had been discovered, while maintaining that Democrats concocted the allegations "as a hoax, as a ruse, as an excuse for losing an election." He added that the investigation into Russian interference during the 2016 presidential election makes the U.S. look very bad:
"It makes the country look very bad, and it puts the country in a very bad position."
In the same conversation two years ago with The New York Times at his golf course in West Palm Beach, Florida, Trump said, according to a transcript of the interview:
"So, I actually think it's turning out—I actually think it's turning to the Democrats because there was collusion on behalf of the Democrats. There was collusion with the Russians and the Democrats. A lot of collusion."
Please fill in your e-mail so we can share with you our top stories!