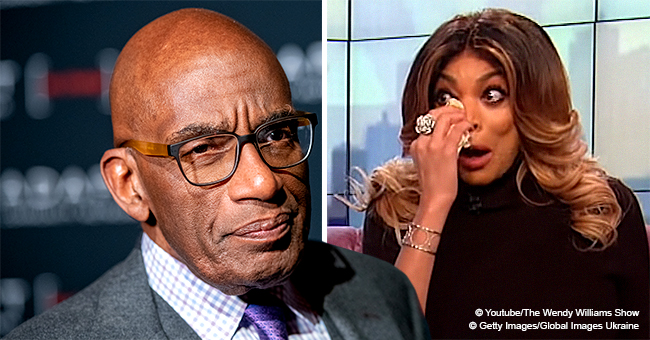 Al Roker Sends Emotional Message to Wendy Williams after Confessing She's Been Living in Sober Home
TV personality Al Roker, best known for "Today," took to Twitter to send support to Wendy Williams, who recently confessed she has been living in a sober home.
During an episode of the "Wendy Williams Show," the host said that she once had "a struggle" with cocaine in the past. She admitted to not going to a place to get treatment as it was God who helped her stop.
Later, Wendy started explaining what she does day after day. When she finishes shooting the show, the host goes to pilates and then meets with "brothers and sisters" who struggle with addiction and are looking for help.
DIGGING INTO HER ROUTINE
"After I finished my appointments, seeing my brothers and sisters, breaking bread, I am driven by my 24-hour sober coach back to the home that I live in, here in the tri-state with a bunch of smelly boys who have become my family," continued Wendy.
She even confessed that only her husband, Kevin Hunter, and their son, Kevin Jr., knew about that aspect of her life as not even her parents were aware of it.
GETTING SUPPORT
When she made such a revelation, several people took to social media to send her positive messages. One of them was Al Roker, one of the most popular faces of "Today."
In a tweet, the man wrote: "Wishing Wendy Williams strength and hope as she fights for her sobriety," followed by a photo of the two having a conversation that took place in Al's first visit to the show in 2011.
After that, Al visited Wendy on the set one more time, in 2013, when they talked about his viral interview with then-President Barack Obama. During that conversation, he also talked about his weight-loss journey and how to report the weather on a green screen.
She even confessed that only her husband, Kevin Hunter, and their son, Kevin Jr., knew about that aspect of her life.
SHARING HIS EXPERIENCE WITH KETO DIET
Speaking of Al's weight-loss journey, he recently revealed during the "Today" show that he has lost 40 pounds since September thanks to the keto diet. Even though several people say that such a diet is not safe, Al pointed out that his doctors said his health was good.
The man also said that "what works for you, works for you," and that even though some scientific studies say that keto diet is not safe, some others suggest it is "a great idea."
Finally, Al admitted that it would depend on each person and their doctors to find what works better for them and to make the decision.
Please fill in your e-mail so we can share with you our top stories!