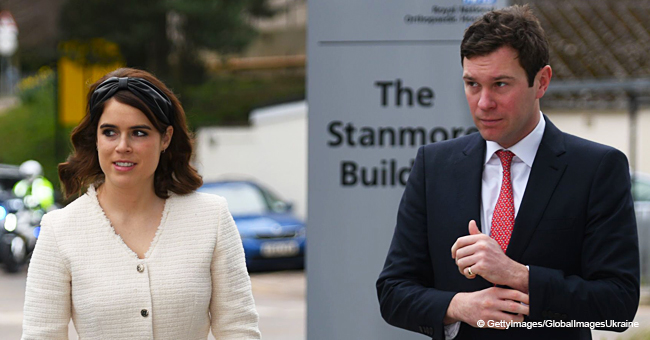 Princess Eugenie Donned Cream Boucle Dress as She Took Her Husband on His First-Ever Royal Outing

Princess Eugenie stepped out the husband Jack Brooksbank on Friday for their first official royal engagement together at a hospital in London close to Eugenie's heart.
The newlyweds were all smiles when they arrived at the Royal National Orthopaedic Hospital in London to join her father, Prince Andrew in the opening of the new Stanmore Building.
The 28-year-old looked stylish in a cream boucle Maje dress with loose wavy hair and a black headband. Jack looked dapper in a black suit and red tie for the occasion.
During their visit, Princess Eugenie announced that she would be taking over patronage of the charity from her father Prince Andrew, a role he held since 2003.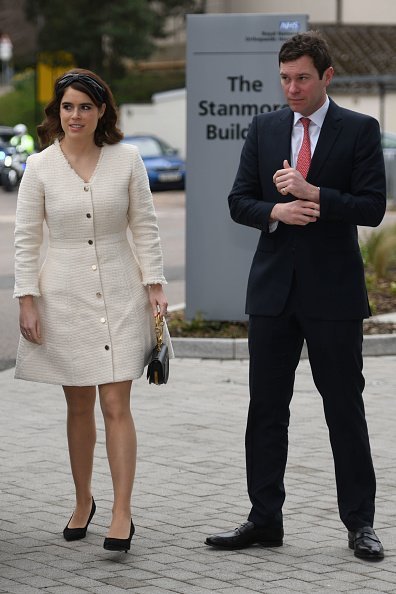 Princess Eugenie and Jack Brooksbank arrive at the Royal National Orthopaedic Hospital on March 21, 2019, in Stanmore, Greater London. | Source: Getty Images.
The Royal National Orthopedic Hospital hold special memories for Eugenie as she received treatment and surgery for scoliosis there when she was 12 years old.
During the operation that lasted eight hours, two metal rods got inserted along her spine. After three days in intensive care and another week in the ward, an additional week in a wheelchair followed before Eugenie could walk again.
On her wedding day in October last year, Eugenie wore a low cut dress at the back, purposefully showing her surgery scar. She told People that she "believe scars tell a story about your past and your future" and proudly displayed hers.
The new Stanmore building's architectural design fused health technology with contemporary art and came with a price tag of $65 million, but will also replace some hospital wards in use since World War II.
As part of their visit, the royals met with several patients and met Pepper, the interactive talking robot in the children's ward that can even play games with patients.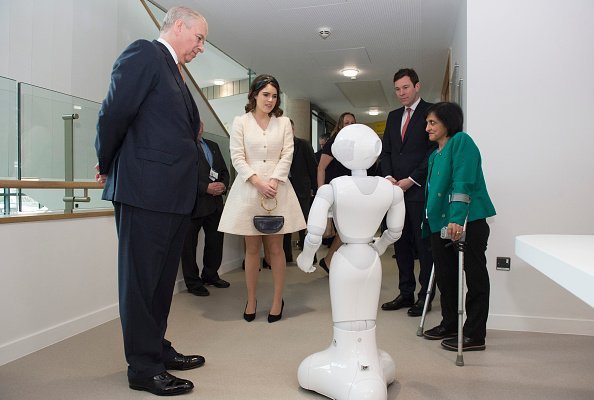 Prince Andrew, Princess Eugenie, Jack Brooksbank, and Dr. Saroj Patel with a robot called Pepper, during a visit to the Royal National Orthopaedic Hospital on March 21, 2019, in Stanmore, Greater London.| Source: Getty Images
"It is such an honor to be here today; I feel like my bones, and my blood are a part of this building. I learned on this visit today that we all share in something with this building because we care," Eugenie said.
Apart from her royal duties, Eugenie "supports Granny and Grandpa" whenever possible while also having a nine to five job.
The Princess relocated back to London last year after she spent two years at Paddle8, an online auction house situated in New York. Currently, she serves as the associate director at the Hauser & Wirth gallery while keeping to a healthy lifestyle.
Eugenie exercises every morning or joins her best friend at the women-only gym, Grace Belgravia. When not at the gym, she goes to the park. "I go to the park from 7 to 8. I do circuits, which I love because they're quick: burpees, squat jumps, lunges, the whole lot. It's much better, as I can't run for a long time," Eugenie added.
Shortly after her wedding, Eugenie spoke candidly about the reasons she chose to display her scoliosis surgical scar.
Please fill in your e-mail so we can share with you our top stories!