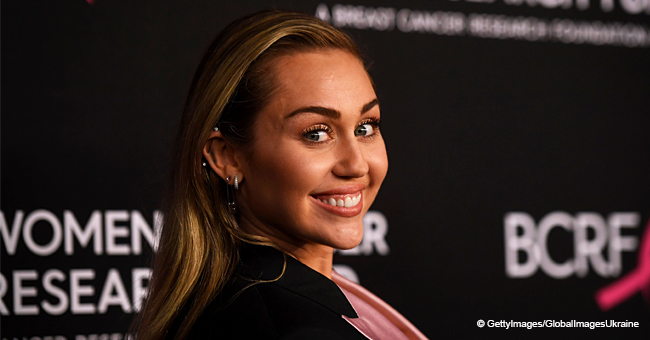 Miley Cyrus Turns Heads in Dangerously Short Dress in Latest Photo
Miley Cyrus looked stunning in a short green dress for a sexy photoshoot. She gave fans a sneak peek of the shot just days earlier.
The "Climb" singer had legs for days in a post she shared of her laying on a bed with pink covers and a green headrest within a room with matching wall colors.
She uploaded the post on Thursday, March 21 along with a caption that featured quirky hashtags like "#snackvswholemeal, #thisaintadrivethruhenny, #doyawantfrieswitdat, and #getbreaddonteatit." The post is found below.
The 26-year-old wore a sleeveless tight-fitting mini dress as she lay down. An old-time phone also sat on the bad and Cyrus held the receiver up to her ear.
Her long hair fell on one side of her head and she wore a gold bracelet on at least one wrist. She also had on matching green stilettoes on her feet. One leg fell on the bed and the other was lifted in the air.
Her caption read:
"Callin' my producers sayin we gotta turn up the heat & speed up the cooking [sic], cuz y'all [expletive] HUNGRY!"
Mere hours later, Cyrus shared another stunning black and white photo of her as she stood facing the camera. Holding up some lipstick to her mouth, she looked seductively into the camera.
She wrote in the caption:
"When the doorman asks to see ID..... [expletive] this FACE is my ID"
Some days prior, Cyrus teared up during a speech she gave at Janice Freeman's memorial service. Freeman was a contestant on "The Voice" during season 13.
Sadly, she passed away on March 2 due to an "extreme case of pneumonia and a blood clot that traveled to her heart" according to representatives. Cyrus had been her coach on the talent show where Freeman reached the top 11.
Yet during the memorial, Cyrus insisted:
"I was never her coach, ever. She was always mine. I've learned more from her than anyone that I've ever gotten the honor to be in the room with, not just vocally, I should've gotten more lessons than I did, but she taught me everything that I know about love."
Cyrus then announced that her father would be helping her to sing a song in a tribute to Freeman. Billy Ray Cyrus began to deliver a performance of "Amazing Grace" and his daughter later joined in.
In a tweet from the young singer, she vowed to help Freeman's family financially. She had already begun doing so prior to Freeman's death. The two were close friends and our hearts go out to Cyrus and all those affected by the loss.
Please fill in your e-mail so we can share with you our top stories!