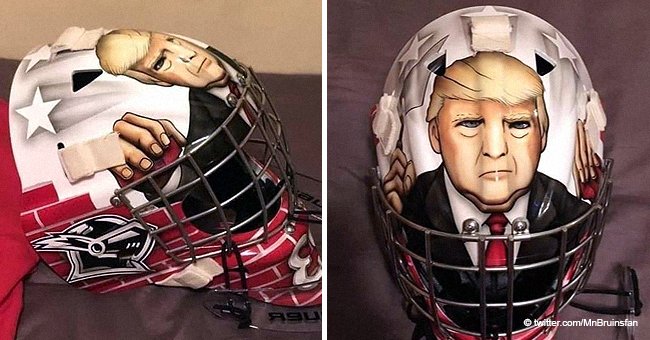 Young Hockey Player Slammed for Goalie Mask Depicting Donald Trump Building a Wall
Fully aware of the potential backlash, 14-year-old "Black Knights" goalie asked Doug Wager to make a mask of President Donald Trump building the multi billion-dollar wall on his helmet.
Have you heard of Doug Wager, the legendary artist that airbrushed bricks and wall on icehockey goalie's masks for years? You probably haven't, except you are a huge fan of hockey. So, what did Doug Wager do that just made him famous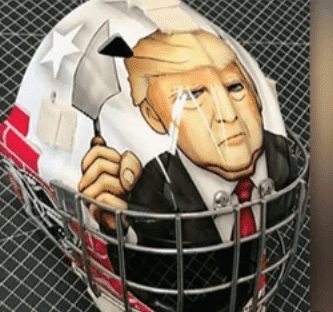 Mask Picturing Donald Trump building brick wall | Photo: YouTube/ smokaj0000
.He painted the picture of President Donald Trump on the mask of the hockey goalie. Yup, he did not paint Donald Trump in a suit having coffee or looking good, he painted the President of the United States of America holding a trowel in one hand and a brick in the other.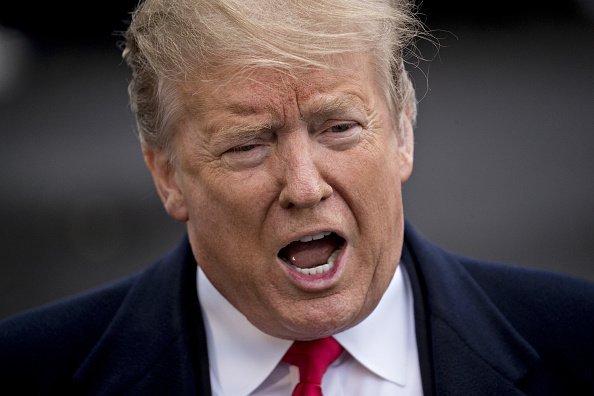 Donald Trump speaking to members of the media in Washington, D.C. | Photo: Getty Images.
Doug explained what happened to USA TODAY Sport. He told them the parents of the 14-year-old "Black Knights" goalie simply asked him if he could paint it and he said "Sure. Why not?"
He went further to explain that the parents are Trump supporters and he did not see anything wrong with them expressing their political opinion,
"It's not like they wanted a Mexican flag with a slash through it or anything like that," he said.
Doug said he is not into discussing his political views in public but,
"Normally; there's no reason why anyone would be upset over having the President of the United States on a mask. Unfortunately, this is the kind of thing that people take offense to and, in my opinion, it's a willful act to be outraged."
He also added that he did not expect this Trump mask to hurt his business. Though the father of the youth player declined to talk to the media, Wager was gracious enough to inform USA TODAY Sports that the parents of the goalie paid $900 for the mask and custom paint job.
You have to understand that Doug has done lots of mask jobs since 1992 that he started his business. Some of his clients include the likes of "Toronto Maple Leafs" goalie Garrett Sparks and beer league level goalies.
So yeah, Doug's mask painting is a huge deal. Even though this particular Trump design is his first political painting, it has triggered a lot of mixed reactions on social media.
@MnBruinsfan posted a tweet of the pictures with the caption
"Palmyra Black Nights G Brayden Schohs mask! I don't care if you like or don't like Trump; this is awesome!".
Everyone on his thread liked the paint job and did not see any big deal in a teenager expressing himself.
Please fill in your e-mail so we can share with you our top stories!