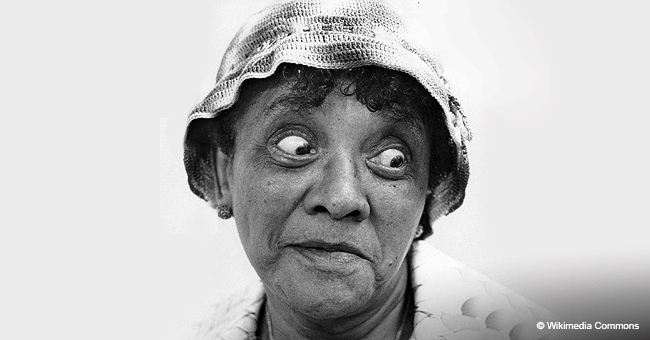 Remember Comedian Moms Mabley? She Became Pregnant at 11 & 13 and Gave Both Babies Away
She made a career out of making people happy. But beyond the façade of a comedic persona was a woman whose early life was riddled with so much tragedy.
Moms Mabley pioneered Black comedy during an era when there was hardly any, more so women in that genre. From a predominantly black audience, she managed to cross over to the White community sealing her stature as a superstar in the field of comedy for half a century. But as she made a living making people laugh, there was, in fact, another dimension to her, a past so heartbreaking, it's difficult to imagine she survived.
A SERIES OF UNFORTUNATE INCIDENTS
Moms was born in 1894 in North Carolina as Loretta Mary Aiken. She was one of her parents' sixteen children. Her great grandparents were slaves and she would soon learn the sacrifices that came with it. At the age of 11, she was raped by an older man. Two years later, a White town sheriff raped her too. Both encounters resulted in pregnancies and she gave up both babies.
Shortly after, two more tragedies struck her. Her father who was a volunteer fireman died on duty when the fire engine he was on exploded. Soon after, her mother was killed as she was returning home on Christmas day from church. She was run over by a truck.
HOW SHE COPED WITH HER TRAGEDIES
Due to the trauma she'd been through, Moms was driven to flee her home at the age of 14. Armed with her disastrous past, she used it as a motivation to build a better future for herself. It began with her first job as a performer in a minstrel show. From there, she managed to find her way to the top of the entertainment industry where she reigned as an icon in comedy.
At the start of her career, she changed her name to Jackie Mabley in response to her brother's despise of her choice of work. He told her it was a disgrace to their family name to be a woman in the entertainment business. But she would later take on the moniker Moms, a nickname given to her by comedians who looked up to her as a mother.
MAKING A MARK IN COMEDY
As a performer, Moms banked on being Black in delivering her jokes. Her sketches catered to the Black community and revolved around stories about White people. She was also a master at double-entendres when delivering her sexual jokes. Her most popular scripts portrayed her as a dirty old lady who preyed on young men. By the 1960s the White community discovered her talent and her audience widened.
Having achieved what she did, Moms proved there is no way to go but up once you hit rock bottom. She was born into a difficult life but she died a legend in 1975 at the age of 81.
MORE OF MOMS' LIFE AND INFLUENCE
Moms had three more children and adopted several though it's unclear if she ever married. She came out as a lesbian when she was 27. It was also unfortunate that one of her daughters became a drug addict.
In 2013, comedian Whoopi Goldberg spearheaded the documentary, "I Got Something To Tell You," which was centered around Moms' career. As the film's director, she wanted to pay tribute to Moms and introduce her to an audience who never knew of her. The film also included commentaries from Sidney Poitier, Bill Cosby, Eddie Murphy, Joan Rivers, Jerry Stiller, and Kathy Griffin and featured whatever footage she could unearth from Moms' career and family. It was aired by HBO.
Whoopi is one of many comedians who look up to Moms and thank her for opening the doors for them. A successful comedian herself, she's now also an influential talk show host on "The View" offering her unfiltered opinions about social, entertainment, and political issues. She's currently on leave from the show due to a serious case of pneumonia that almost cost her her life. But a recent update she made for her fans revealed she's on her way to recovery.