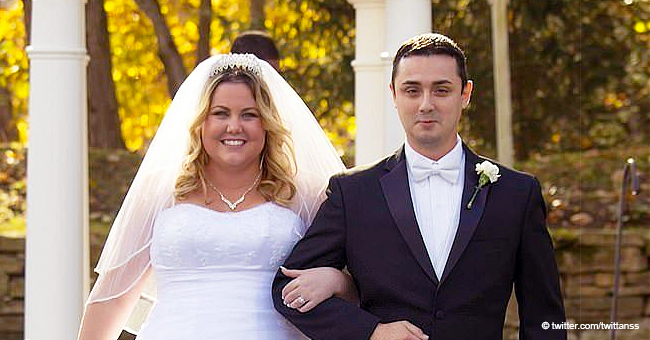 27-Year-Old Pennsylvania Bride Was Diagnosed with Cancer Just a Few Days before Her Dream Wedding.
For a Pennsylvania bride diagnosed with cancer days before her wedding, being happy is all that matters. The beautiful bride hid her IV drip in her arm and was given a dose of nausea medication before cutting her wedding cake.
Ashley Heil is a happy woman and has all the reasons to be. She just got married to the love of her life and had a successful wedding ceremony. However, the incidences that occurred before her wedding is one that could take its toll on anyone; some might even have cold feet about going on with the celebration.
Ashley is not that kind of person, she is a fighter and being diagnosed with cancer is not going to make her weak. Speaking to SWNS, the new bride said:
"Being sick; one has two options: remain upbeat and make it hard for yourself and your loved ones or become happy and make the best out of the situation."
She chose the latter as she looked beautiful and happy in her wedding dress.
The 27-year-old was feeling sick days before her wedding and took the symptoms as stress-induced due to preparations for her wedding. Her husband-to-be, however, insisted that she should go for a test.
There it was discovered that a 6.5-centimeter tumor was growing in her liver and an abscess was infecting her bloodstream. With the results from the diagnosis, everyone was worried, and there were suggestions that she should postpone the wedding, but Ashley would have none of that, insisting otherwise.
She was thus given medication by the doctors, and an IV pump. The medication caused her to swell, making her dress much tighter to the extent that it took four people to squeeze her into it. She hid the IV pump with an armband, while she and her husband, Ben Scheirer did not do the customary ring part of the wedding so that she wouldn't have to remove the pump.
Nothing was going to come between the determined bride and her dream of marrying the man of her dreams, and she is glad she did it. After the wedding, she proceeded with treatment, spending two months in the hospital, her husband always by her side through it all.
This bride defied the odds to get married, but she is not alone. Another bride, Laurin Long defied doctor's warning and advice for her to shift her wedding date. Her cancer symptoms, gone for two years suddenly returned months before her wedding and sought to ruin her special day.
She was having none of it, and the couple got married in a beautiful and emotional ceremony. These women have shown us that nothing can stop us from achieving our dreams in life and that we should be happy despite the circumstances we find ourselves.
Please fill in your e-mail so we can share with you our top stories!