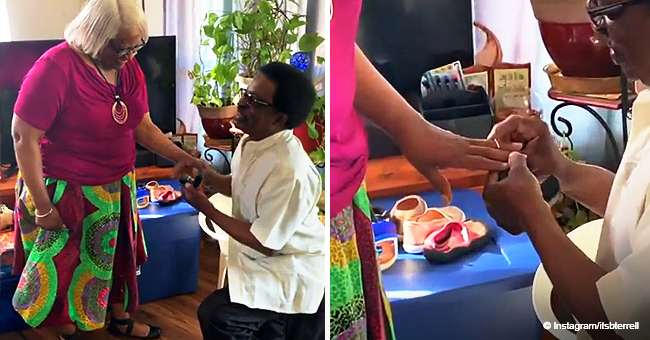 Grandmother Warms Hearts as She Gets Engaged 8 Years after Death of Her Husband

The grandmother of Instagram user B. Terrell found the love again eight years after her husband of 50 years passed away. The marriage proposal was posted on social media.
Terrell, the host of "The Escape" podcast, surprised his more than 1,000 Instagram followers by posting a clip of his grandmother's then-boyfriend taking the knee to propose to her.
In the clip, the lady, wearing a fuchsia blouse, a colorful skirt, and black shoes, was in front of a man, wearing black shoes, matching pants, and a white and beige shirt.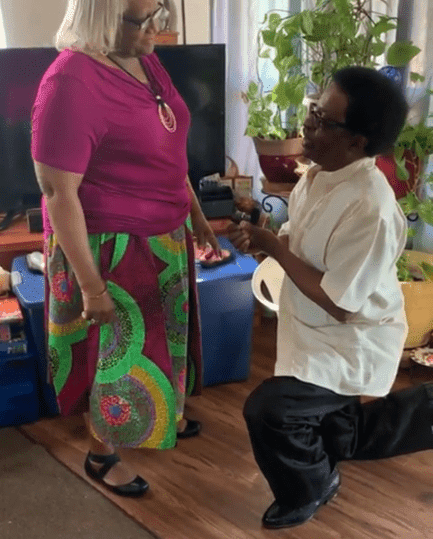 The marriage proposal | Source: Instagram/B. Terrell
The senior man, whose name was not revealed, was on his feet holding a little black box containing the engagement ring. However, one of the people in the group told him to get in one knee, and the man immediately did it, grabbing the lady's arm for support.
Once he was kneeling, he said, "will you marry me?" to what the woman replied, "yes, I will." Everybody in the room, who are believed to be members of the family of the groom and bride, erupted in cheers and claps.
Terrell then asked his grandmother to repeat her answer loudly, and the woman said, "yes, I will" loud and clear so everybody could hear it. She then took off the ring she had on her ring finger to make room for the new one.
In the caption, Terrell revealed that his grandfather – ex-husband of the lady in the video – passed away about eight years ago and that he and his grandmother were married for almost 50 years.
"To see her find someone that makes her smile again, I'm excited and happy for her. MY GRANDMA IS ENGAGED!" added the man. At the moment, it is not clear when they will walk down the aisle.
If that happens, it would not be the first time that a senior lady gets married. Millie Taylor-Morrison and Harold Morrison from New Jersey made headlines by getting married at the age of 86.
The couple knew each other for more than six decades. In fact, Harold was present at Millie's first wedding, but the man died in 1992.
Please fill in your e-mail so we can share with you our top stories!