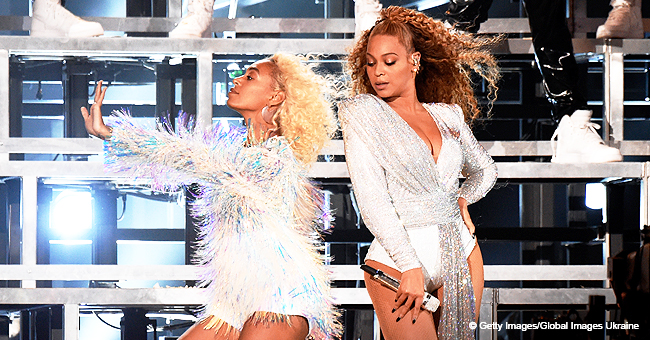 Solange Brings on the Heat in Skimpy Bikini, Dancing to Sister Beyoncé's 'Kitty Kat' on a Yacht
The Knowles sisters run the world, at least according to social media. A video of Solange dancing in a bikini to her sister's song caused fans to have a meltdown over the beautiful and talented Knowles siblings.
Solange Knowles is a carefree soul, a Grammy Award-winning singer-songwriter-visual artist, a mother, wife, and a talented dancer.
However, whenever the gorgeous southern beauty is not wearing one of those hats, she's having fun with friends like any other young, powerful woman of her age.
"I feel so good! The energy that's in this album is an exhale and a celebration of the last two years of my evolution."
In recent clips shared to her Instagram stories, Knowles made sure to treat her followers to a peek behind the curtain on her day off by the sea. She posted several clips dancing aboard a yacht and sipping champagne, but one, in particular, captured the fans' attention and, luckily, was saved for posterity by The Shade Room.
Donning a skimpy black bikini that put her toned body and curves on display, Solange moved her hips to her sister Beyoncé's song "Kitty Kat," while also holding a glass in her hand and putting on an array of dance skills that left her fans in awe.
"Thank god for her and her natural body," wrote one fan.
Another added, "I can't wait to be this happy and carefree one day."
And a third one pointed out,
"I never knew how much I needed Solange doing karaoke to a Beyoncé song until now."
Solange is probably celebrating the release of her fourth album, "When I Get Home," which she dropped at the beginning of this month following her 2016 release of "A Seat at the Table."
Talking about the new project to I-D magazine, Solange explained where the inspiration came from and how it differentiates from the previous one, saying:
"I had a f****ng blast creating this album! I really wanted to create a space for joy and expression. My last record was deeply personal, but it was no secret that I was working through a lot of s**t."
And continued:
"I was carrying a lot of weight, and even though that's something that doesn't go away, I also feel like a lot of answers felt more inward this time and not outward. A Seat At The Table was composition, a thesis, and a healing experience, but I couldn't ask the world to be involved in the answers I needed for this project. I just needed to live in it."
Fans of the singer, who's usually reserved and tends to disappear from social media for a long periods, have noticed that she's more open about her creative process and life, in general, these days.
She's been replying to Twitter questions, making long threads explaining her songs, and even spreading love all around social media for her most loyal followers.
"I feel so good! The energy that's in this album is an exhale and a celebration of the last two years of my evolution," she explained of her mood. "Everything came from such a special place because we were creating songs that really embody living."
Although some people prefer to put Solange one spot below her sister just because she's missing that "pop star quality," it safe to say that the youngest Knowles is on a whole different genre on her own.
She has no need to envy Beyoncé, and instead, the siblings make sure to promote each other and prove to the world that together, they are stronger.
Please fill in your e-mail so we can share with you our top stories!