Jamie Foxx Spotted with Ex and Their 9-Year-Old Daughter after Reportedly Admitting He's Single
Jamie Foxx took his youngest daughter and her mother for a walk in a Los Angeles suburb over the weekend. The outing comes just a few weeks after the actor declared himself as "single" at an Oscars' charity event, raising eyebrows about his longtime relationship with Katie Holmes.
The "Robin Hood" actor was spotted on Sunday during a family outing with his ex-girlfriend Kristin Grannis, and their nine-year-old daughter Annalise in Los Angeles suburb Woodland Hills.
The trio was there supporting Foxx's niece at her basketball game.
Jamie was dressed comfortably, wearing a black puffer jacket, matching sweatpants, Nike shoes, and sunglasses. Annalise looked cute wearing an all-blue sporty outfit, and Kristin donned a black sweater and fitted workout pants, leaving her long hair flow down her back.
Jamie Foxx reunites with ex-girlfriend Kristin Grannis and their daughter Annalise, 9, after declaring himself 'single' https://t.co/LzglRe3m68

— Daily Mail Celebrity (@DailyMailCeleb) March 27, 2019
The outing comes just a few weeks after Foxx reportedly referred to himself as a single man. According to US Weekly, the actor was in the middle of his performance at the third annual Entertainment Studios Oscar Gala Supporting Children's Hospital Los Angeles, when he dropped the bombshell.
"It was very nonchalant," said the source of Foxx' remark. While he was referring to married and single couples, he just dropped the line 'I'm single.'"
Foxx has been romantically linked to "Dawsons' Creek" actress Katie Holmes for the last five years.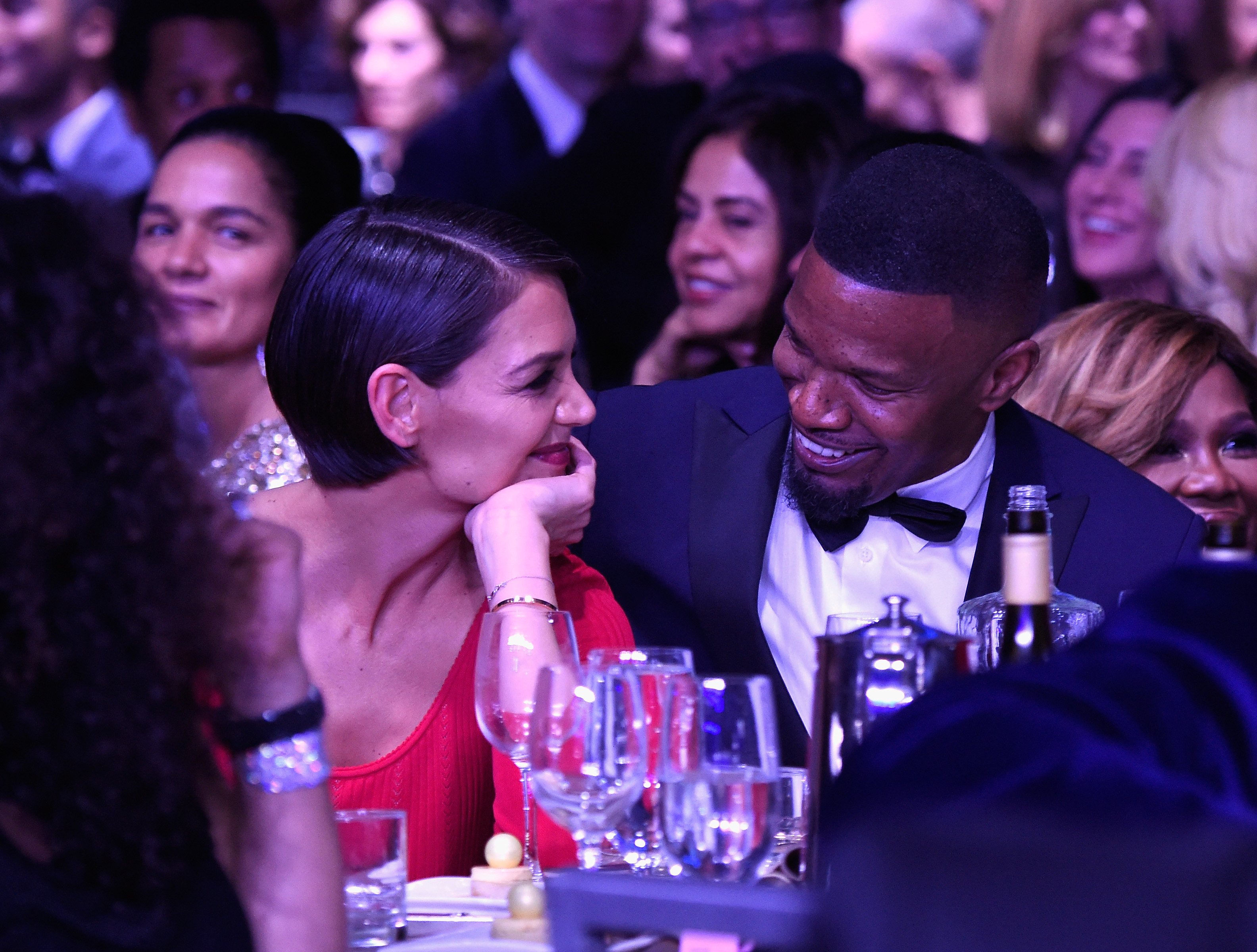 Although they kept their relationship mostly off the public eye, the pair has been caught out and about on several occasions.
Last December, they enjoyed a romantic vacation in Miami and were caught passionately kissing on a yacht, but they refuse to acknowledge their relationship to the media or the fans.
They reportedly started dating in October 2013, about a year after Holmes' divorce from her ex-husband and Foxx's "Collateral" co-star Tom Cruise, with whom Holmes shares a 12-year-old daughter, Suri.
However, after his "I'm single" remark, Foxx was seen arriving with "Gossip Girl" actress Jessica Szohr at Beyoncé and Jay-Z's super-exclusive post-Oscars bash in West Hollywood. And according to the Daily Mail, Foxx also partied the night before with two models before his sighting with Szohr.
Jamie Foxx and Jessica Szohr were spotted getting a little cozy after the #Oscars! https://t.co/D9Qg9IjclS

— HollywoodLife (@HollywoodLife) February 26, 2019
Although Holmes is said to be infatuated with Foxx, it seems like the actor is not ready to settle down, and even though there were rumors last November about the couple planning a secret Paris wedding, it was all speculation.
The "Baby Driver" actor and Holmes were subject to breakup rumors earlier in 2018, but this will be the first time one of the two will reportedly claim to be single.