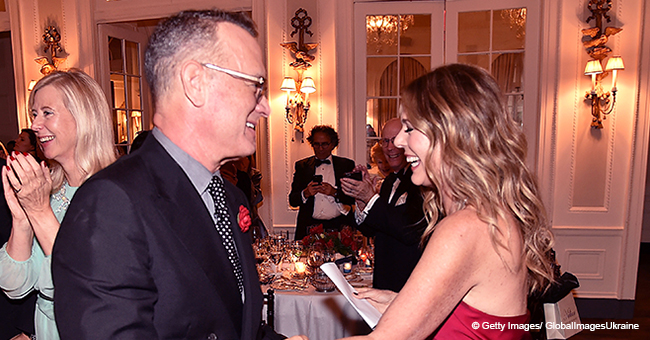 Tom Hanks' Wife Reveals the 'Serious Discussion' They Had after She Was Diagnosed with Cancer

Rita Wilson, in a recent post on social media, reminisced on her experience and shared the "serious discussion" she had with her husband, Tom Hank after her she was diagnosed with cancer.
Winning the battle against cancer is a feat not many have managed to achieve. Rita Wilson now counts as a cancer survivor, and the star is beginning to reveal the details of her battle with the dreaded disease.
In an interview with "PEOPLE", she narrated the happenings from the day of her diagnosis and her final victory.
The 62-year-old singer and actress Rita Wilson is reminiscing on her cancer battle and victory. She was diagnosed with cancer four years ago, and after doctors confirmed the diagnosis, she had a serious discussion with her husband, Tom Hanks.
She told Tom that if anything happened to her, and she died, that she wanted him to be super sad for a very long time and also wanted a party and celebration.
Words from that discussion served as the inspiration for the song, "Throw Me a Party," which is the first single from her upcoming album, "Halfway to Home."
The singer also thanked her family and friends, especially Tom, as well as her doctors for standing with her through her battle, saying that they made her confident of having a full recovery.
She also noted that it was important for people to make regular cancer diagnosis and go for second opinion diagnosis even when the first one comes out clean, to detect it at the early stages.
She cited her case as an example as her primary diagnosis came out clean, but she heeded the advice of a friend who said she should go for another in case any detail got left out.
The elated Tom Hanks is happy his wife is now cancer free, and Rita thanked him for always being there for her through the ordeal.
The couple, married for twenty-nine years walked the red carpet together at a Women's Cancer Research Fund event in which they were co-chairs.
The admired couple shared their experience through a difficult period, admitting that the key was making sure they did everything together and maintain high spirits.
Rita Wilson is now focused on the release of her album which comes out on March 29.
Please fill in your e-mail so we can share with you our top stories!