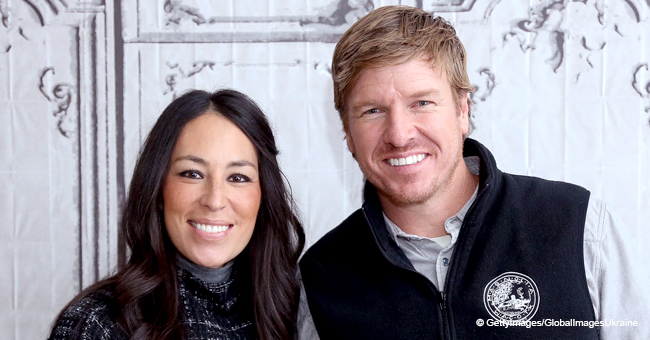 Joanna Gaines Hosts an 'Unannounced' Book Reading for Baby Crew, and His Clapping Is Adorable

Joanna Gaines held a private book reading for her son Crew at Barnes and Noble, and he showed his appreciation by clapping adorably.
Joanna Gaines is best known for her "Fixer Upper" show which she co-hosts with her husband, Chip Gaines. Gaines often refers to herself as an avid reader, and recently took it up a notch, by writing a book.
The book "We are Gardeners," is children based, and was co-written by her four older children, ages nine to fourteen. The mother-of-five is enjoying her new published author status as her work got launched two days ago.
Gaines took to Instagram to make the announcement, accompanied by a video that showed her reading to son, Crew. The fixer revealed that she was away from home for work reasons, and to celebrate the book launch, she held an unannounced reading session at Barnes and Noble, Palm Desert, California.
It turned out that there were only two people present, the author and her 9-month-old son, but she was unperturbed. Sitting on a wooden chair, while Crew sat on the floor, with a copy of the book beside him, the happy mother smiled as she told her little boy to pay attention.
This prompted baby Crew to lift up his hands and clap adorably for his mum. It was an act that melted hearts, and Gaines followers took to her comment session to share their view.
One follower thought the "HGTV" star had the best audience, while another wrote,
"Crew's clapping is so cute."
Others wrote "Cuteness overload."
This is not the first time mother and son will be getting a lot of attention; it's been the story since the 40-year-old gave birth at an age most of her peers were hanging their diaper bags.
In an interview with "PEOPLE" for their new issue, Gaines said that finding out she was pregnant was shocking. By the time of delivery, the television personality had eased into it and now credits it with changing her in ways she never expected.
The writer also dished out her new advise to women, which is:
"If you want to feel young again, have a baby at forty."
When asked if she would be having any more babies in the future, Gaines replied that although Chip would want to, she has no plan in that regard.
"We Are Gardeners" is available on Amazon, in hardcopy, kindle, and audio formats.
Please fill in your e-mail so we can share with you our top stories!