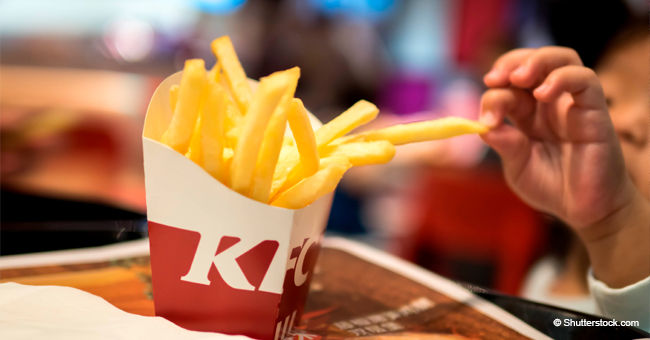 Terrified Dad 'Burst into Tears' after Finding White Pills in His Toddler Daughter's KFC Meal
A concerned father was drawn to tears when he discovered white pills in his daughters KFC bag. He is still looking for an explanation.
On Sunday at around 3 pm, Peter Graham treated his daughter Eva to a KFC meal on Eastbank Street in Southport, Liverpool.
According to Echo, while enjoying their meal, Graham was shocked to find five white pills amid the popcorn chicken and chips he bought for Eva.
The 31-year-old dad reacted quickly:
"As soon as I saw it I took my daughter and put my fingers in her mouth. It's the most horrible thing I've ever experienced in my life."
Graham's mind was running because as he rightly said, "it could have been anything." Little Eva willingly opened her mouth but disliked her father "putting [his] hands in her mouth."
Even Graham was horrified at what he had to do, saying ""It frightened me, it frightened the life out of me. I had to do it as quick and as nice as possible."
Graham grabbed the bag and went to the counter. It would be the second complaint he made that day. He already told staff that mayonnaise was still placed in his food despite telling them about his lactose intolerance.
The customer said the employee he dealt with had a disgusting attitude. The manager dismissed him. The staff was then tasked with crushing the pills to check if they were sweeteners.
Not getting a conclusive explanation, Graham opted to take the pills himself. He said his mouth went numb after doing so. "I just didn't think. I just wanted my daughter to be safe," he explained.
Management offered him a refund, free food and gave him a reference number to make an official complaint. By the time Graham was walking out the door, he was in tears.
"I'm not a crier," he said, "but I burst into tears." At home, the KFC branch manager called to apologize for the incident. He promised there would be an investigation.
Graham has already crossed that KFC branch off his list:
"I'm a big big fan of KFC, I eat a hell of a lot of it. I'll never step foot in there ever again. Not after the way I've been spoken to by the staff or the manager who sorts out that area."
He said that he doesn't want to see anyone get fired, but he does want to learn the truth. Graham kept one of the tablets which he intends to get tested and determine exactly what it is.
A spokesperson for KFC commented on the situation:
"We're really sorry for Peter's daughter's experience. We always want our guests to have the best experience possible in our restaurants which is why we immediately offered him another meal."
He continued:
"We've also been looking into this with the restaurant team, so we can make sure it doesn't happen again, and will be inviting Peter down to meet the restaurant management and see first-hand the work we do."
Another sickening discovery was found in a KFC meal late last year. Australian woman Anna Spargo-Ryan shared stomach-churning pictures of her KFC covered in maggots. She tagged the fast-food giant in the tweet.
The post went viral, and KFC responded the next day. They said they would look into it and advised Spargo-Ryan to fill out a form online. A spokesperson assured customers that the company does their best to ensure no bugs are present in their products.
A similar incident saw three Sonic restaurant workers get arrested when a customer discovered an ecstasy pill was in a burger for their child. The Taylor Police Department made the arrests after their investigation.
Tanisha Dancer, Jonathan Robertson, and Jose Molina were all arrested and charged. The company subsequently addressed the matter.
These large organizations may not want to warn customers, but it's always better to look, quite carefully, before you eat from such places. It may be tasting good, but it's not always for the right reason.
Please fill in your e-mail so we can share with you our top stories!