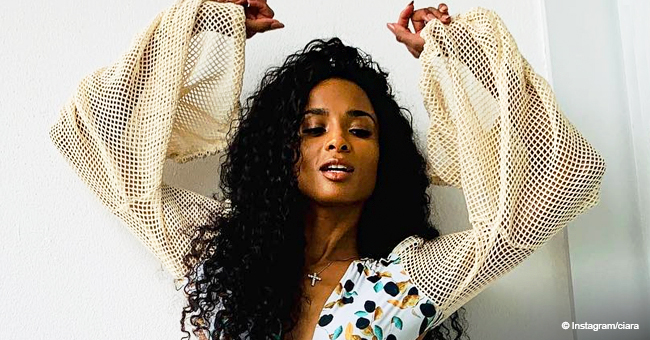 Ciara under Fire as She Leaves Nothing to Imagination in Pics to Promote 'Thinkin' Bout You' Song
Ciara left little to the imagination in the cover of her upcoming album "Beauty Marks," which she unveiled while promoting her song "Thinkin' Bout You." And while most of her fans loved the concept, others slammed the singer for "trying to sell music using her body."
Ciara has never been shy when it comes to showing off her curvaceous body, and the cover of her new album is just another proof of that.
The mother of two took to Instagram to share the concept art of her upcoming seventh studio album "Beauty Marks," which features the naked singer covered in black paint and posing sensually with her eyes closed and her hand strategically placed near her lower abdomen.
SOME FANS SHOW THEIR DISAPPOINTMENT…
Although Ciara's body is not really on display, at least not in an offensive or obscene way, many fans came forward to express their disappointment with the artsy shot.
"Ciara.. you don't have to do this. Please put some clothes on," one user chastised the singer.
Another added,
"I love you C....but find this particular photo offensive.....you are such a beautiful person please start sharing your everlasting beauty instead of body parting yourself for what is temporary....praying For you and your fam..."
And a conservative one chimed in saying:
"Find it hard to follow you now as you claim being spiritual and helping kids. These pictures are not for children, and your bedroom poses should be kept in the bedroom. I find it sad as a supposed role model we will see young girls following you by fingering themselves and showing breasts trying to act like you."
…AND OTHERS DEFEND THE SINGER
However, thousands of supporters came to Ciara's defense, stating that those offended by the photo are creating a storm out of nothing and also that, if they find the "Level Up" singer so offensive, they should unfollow her.
"Everyone needs to stop making something out of nothing. You have the option to follow or unfollow PERIOD," wrote one upset fan.
And another pointed out, "So many people on here mad but why? YOU DON'T SEE ANYTHING. You should be concerned about your mind and what you're thinking."
Following the album cover, Ciara released the music video for "Thinkin' Bout You."
In the clip, Ciara also shows off her caramel skin body as she stripped down to nothing but bubbles while singing on a tub. Later, she put on a yellow crop top and tiny white shorts while singing and dancing around in a luxurious room.
THE PREVIOUS CONTROVERSY
Last month, Ciara was also heavily criticized for wearing an outfit that, according to some fans, was contradicting with the singer and her husband's faith.
The "Level Up" singer and her NFL player hubby Russell Wilson identify as Christians. So, when she posed on a beachfront for Vogue Brazil wearing a pair of giant wings and matching horns, people came forward to blast her for wearing "demonic" accessories.
Ciara remained silent about the controversy, choosing to ignore the haters and focusing on her family and career.
"Beauty Marks" is set to be released on May 10.
Please fill in your e-mail so we can share with you our top stories!