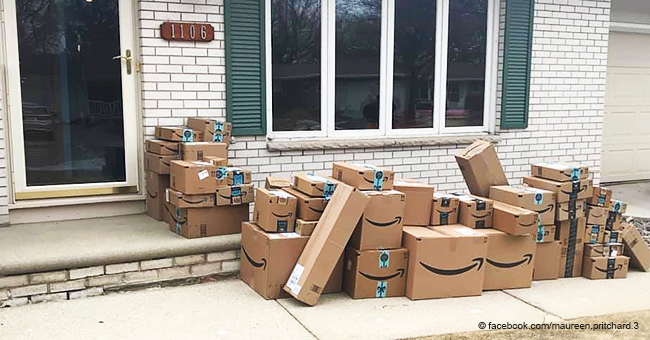 Woman Saved All Her Amazon Boxes to Prank Her Husband and His Reaction Is Priceless
As April Fool's day came to pass again this year, the prank of one Wisconsin woman stood out above the rest.
Maureen Pritchard planned the perfect prank on her husband six months in advance. Dutifully she collected Amazon delivery boxes delivered to their house, along with boxes gathered from her parents and sister.
On April 1, she neatly stacked a massive heap of boxes on their home's front porch so that it would appear that Amazon didn't stop offloading packages until the delivery truck emptied.
In anticipation, she waited for her husband to return home from work and when he finally did, all the planning proved worth it.
Maureen recorded her husband Rob from inside the house as he pulled into the driveway, at first he stopped for a few seconds before he pulled in all the way.
In all fairness, anyone may experience a bit of a jolt upon arriving home to a mountain of unexpected delivered boxes.
Once parked he got out and made his way inside the house. Rob noticed Maureen filming the situation but didn't put two and two together, as he asked her with a dazed and confused expression thinking his wife had gone on a shopping spree, "What IS all that?!?"
"I had to explain that it was six months of saved boxes, from us, my parents and my sister!" Maureen from Green Bay wrote on her Facebook post as she shared the prank with family and friends.
Not surprising, Maureen's massive stack of Amazon boxes drew a lot of attention as she added, "You have no idea how many people slowed down or stopped in front of our house all day today!"
Her creative prank soon went viral and racked up over 4,000 likes along with many comments of appreciation for her funny joke.
But for many years, big corporations played along and made the most of April Fool's Day, and this year, some outdone themselves.
As we all know the basis of a good April Fool's Day prank relies on what either could be true or what we would like to believe to be possible. And this year some major corporations have outdone themselves.
On the official US Open twitter page, they announced that puppies would be added to the ball-person team for the first time this year. "All breeds welcome," the tweet read.
Excited some posted videos of their own pup's readiness for upcoming tennis season, and asked to part of the team, unsuspecting of being pranked until it was too late.
Quarterback Tom Brady caused quite the upset when he announced his retirement from football to tweet full time.
New England Patriot fans reacted with anger and shock while fans from other teams sighed with relief, only to find out later that it was all a prank, and in doing so, he managed to upset every football fan in the US.
However, when a prank is not carefully thought through, it can backfire, as one boy found out after his prank on his mother backfired in ways he had not anticipated.
Please fill in your e-mail so we can share with you our top stories!