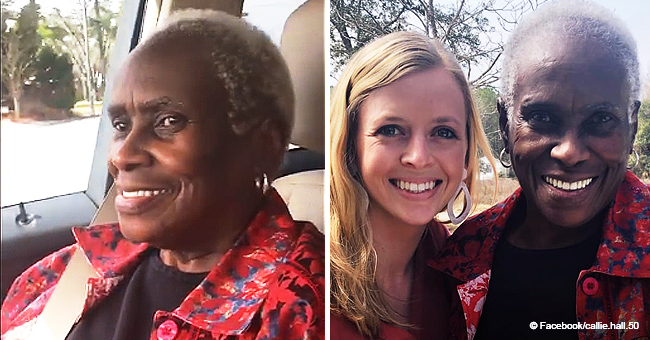 'Love You, Later,' Granny Called Wrong Number for 3 Months & Ended up Making Lifelong Friend
A grandmother wanted to check up on her grandson but ended up dialing the wrong number and speaking with another woman. It turned out this woman really needed the call, and the story of their friendship will bring tears to our eyes.
In October of 2017, Callie Hall, a South Carolina resident, was going through a lot, but she had no idea her life would take a different turn all thanks to a wrong caller.
Callie took to Facebook on March 3 to share the extraordinary story of how she met "Grandmama Margaret."
"This sweet lady called me thinking I was her grandson, Barry," Callie began, adding that she did the same thing for the next three months.
"Even though the first several months she was calling for Barry, it brought me joy to see that number"
Callie further revealed to Love What Matters that even after calling back to tell Margaret that she had dialed a wrong number, the sweet lady did not seem to realize Callie's digits wasn't that of her grandson, Barry.
Over the next three months, Grandmama Margaret would call Callie's number and leave a voicemail for Barry, ending it with: "Love you, later!" Each of those times, Callie would call her back to remind her whose number she called and the two would "chat a little."
It wasn't until December of 2017 that Grandmama Margaret figured out her grandson's number, but that did not stop her frequent calls to Callie and the two quickly developed a friendship.
Margaret had no idea, but Callie lived for her calls and voicemails. "I had a lot going on in my life and the phone calls from her once a week brought joy into my life," the younger woman disclosed on Facebook.
Callie had previously found out that her parents were getting a divorce and was still struggling with the news, she said.
"While going through this time of processing the news of my parent's divorce, Grandmamma Margaret started calling me. Even though the first several months she was calling for Barry, it brought me joy to see that number come up on the phone because the amount of love and joy she had, always made me so happy."
After more than a year of phone calls, Callie and her friend, Grandmamma Margaret, finally met on March 2nd and judging by the pictures and video posted to Facebook, it was a happy occasion for both parties.
Friends come in different shades and ages, and as Callie got to find out, even a wrong number can lead to priceless friendship.
Please fill in your e-mail so we can share with you our top stories!