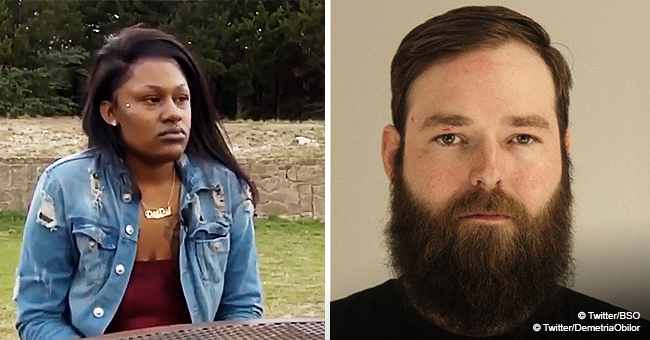 Black Woman Brutally Punched by White Man in Parking Lot Charged with Felony
A Dallas woman who was physically assaulted by a man was charged for damaging his truck while fighting to defend her life.
In a startling development, a young Dallas woman who was viciously assaulted in a road-rage incident in a Deep Ellum parking lot on March 21, 2019, was charged with felony mischief.
The African American woman was violently punched by a white driver and is now accused by the Dallas County District Attorney of damaging his truck.
ROAD RAGE INCIDENT SPARKS CONTROVERSY
An arrest warrant has been issued for L'Daijohnique Lee, 24, accusing her of causing damage to suspect Austin Shuffield's truck on the night she was assaulted.
According to the Dallas County District Attorney's Office, the damage to the truck amounted to over $2,500, making it a felony charge.
Austin Shuffield, 30, is facing multiple charges including aggravated assault after he attacked L'Daijohnique Lee in a parking lot
POLICE DEFEND DECISION TO ISSUE WARRANT
Despite the protests from the public and Lee's attorney S. Lee Merritt, Dallas Police Chief Renee Hall defended the decision to issue the warrant:
"We have the responsibility as a police department to file that charge and the district attorney in this case or any other case has the ability to either accept that charge or reject it."
THE VICTIM'S ATTORNEY CALLED FOR WITHDRAWAL OF CHARGES
Lee's attorney has asked for a dismissal of the charge against his client. During a press conference on April 3, 2019, he revealed his client's anger at her treatment by the Police and the legal system:
"She's very angry that despite the context of her being the victim in a vicious assault, the Dallas police department are pursuing a charge against her anyway."
POLICE ACCUSED OF VALUING PROPERTY OVER LIFE
Lee and her attorney have pointed out that the damage to the suspect's car happened during the vicious attack which left the woman with severe facial lacerations, a head injury, and a busted eardrum.
According to the Texas penal code, criminal mischief is a state felony if the damage to property is valued between $2,500 and $30,000.
SUSPECT MENACED L'DAIJOHNIQUE LEE WITH A GUN
Austin Shuffield, 30, is facing multiple charges including aggravated assault after he attacked L'Daijohnique Lee in a parking lot in the Dallas Deep Ellum entertainment district.
The incident which was caught on video showed the accused approaching Lee brandishing a gun. He struck the cellphone from her hand when tried to call 911, and punched her in the face several times.
Lee revealed that the incident occurred when she had inadvertently turned the wrong way down the road leading to the parking lot and stopped. Shuffield had asked her to move her car, and she complied, driving into the parking lot. It was at this point that Shuffield exited his car and attacked Lee.
The Dallas County District Attorney's Office has dropped all charges against L'Daijohnique Lee.
Please fill in your e-mail so we can share with you our top stories!