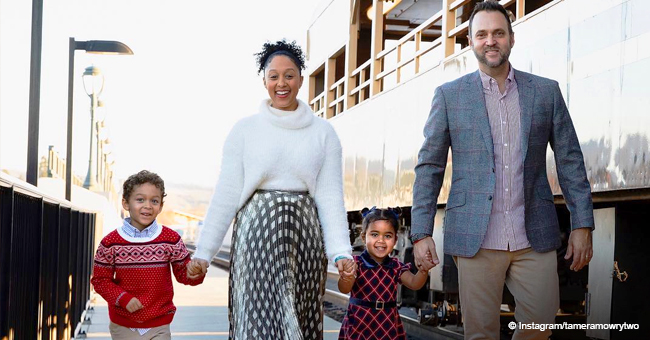 Tamera Mowry Claps Back at Critics Who Question Her Parenting Skills
Tamera Mowry has responded to mommy-shamers and revealed that their criticism encourages her to stick to her guns.
Being a successful professional and a devoted mother is all par for the course for Tamera Mowry, and she won't let her detractors rain on her parade.
"The Real" co-host has opened up about how she deals with "mommy-shaming," and the rabid criticism of total strangers.
"I think it's pretty bad*ss and cool for them to see their mom do what she loves to do. I'm teaching them to go for your dreams and do what you want to do."
BEING THE BEST ROLE MODEL FOR HER CHILDREN
Mowry, who shares her two children Aden John, 6, and Ariah Talea, 3, with Fox News correspondent Adam Housley, revealed that the pursuit of her dreams sets an important example for her children.
The actress has been accused by detractors of concentrating on her career to the detriment of her children.
Tamera has confessed that the criticism she has been subjected to has only strengthened her determination
TAMERA MOWRY'S HARDWORKING MOTHER
Tamera is drawing on the example of her mother Darlene Renee Mowry, a devout and hardworking woman who devoted herself to helping her twin daughters build their acting careers.
"She taught us to never give up, and all of us never give up and we never stop trying to pursue our dreams. As we got older, our dreams changed, but we never stopped pursuing them."
CRITICISM MAKES HER FIGHT HARDER
Tamera has confessed that the criticism she has been subjected to has only strengthened her determination to continue working, and balancing her professional life with her role as the loving mother of two gorgeous children.
A CHALLENGING DOUBLE ROLE
As a twin, Tamera is used to doubling, but she admits that sometimes playing the double role of loving mom and successful professional can be challenging:
"I work a lot. I live in two different places. I travel a lot for my job. So, I just want to sit down, watch Moana and just chill."
She confided that her helpmate is her husband, who is equally devoted to their children despite his own demanding career.
SETTING AN EXAMPLE FOR YOUNG WOMEN
Tamera Mowry hopes to show young African American women that they don't have to choose between having a happy home life and a fulfilling career.
The award-winning actress, producer, talk show host, and author, graduated with honors from Pepperdine University with a Bachelor's degree in Psychology with an emphasis on abnormal childhood development.
Tamera and her twin sister Tia Mowry-Hardrict also own a production company which has produced movies for The Lifetime Network.
The two women have melded their love of their children with their entrepreneurial spirit and created "Milky!", a lactation-enhancing herbal tea supplement.
Please fill in your e-mail so we can share with you our top stories!