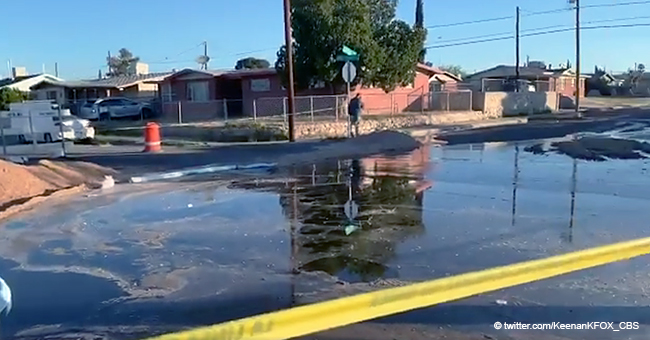 Texas Neighborhood Immersed in Coca-Cola after a Huge Spill at a Nearby Facility
On Tuesday, the City of El Paso found itself flooded with an unusual substance. A Coca-Cola vending facility close by had a spillage that ran down the streets.
The neighborhood was covered in the sugary-drink and is even running into people's yards.
The City of El Paso and the El Paso police were forced to close off several blocks in a lower valley neighborhood to contain the situation. The area where the spill occurred happens to have a Coca-Cola vending facility.
El Paso fire dispatchers revealed that the spillage happened at around 10:30 p.m. on Tuesday. The Texas neighborhood's Cook Drive had to be closed off between Callison and Loma Terrace road.
.
To try and contain the spillage, city crews covered the sugary sludge with dirt. A number of homes woke up to find sludge in their yards and properties.
On Wednesday, footage was shared that showed a worker rescuing a bird trapped in the sludge. A city employee revealed that the spillage had been contained.
However, Coca-Cola has the responsibility to remove the sludge. The cleanup crews also mixed the soda with dirt in order to make it easier to remove.
Some residents said they believed the soda came up through a drainage system. At the time, a representative from Coca-Cola was yet to address the matter.
On September 25, 2018, the L'enoteca Zanardo Giussano wine distillery in Conegliano, Veneto had to perform a massive cleanup after one of its fermentation tanks spilled nearly 8,000 gallons of prosecco. A viral 6-second video of the incident was uploaded to Facebook.
In the footage taken in Italy, a river of wine could be seen flooding the winery as it spilled to the floor. The post revealed that the overflow was the result of overfilling in the silos.
Please fill in your e-mail so we can share with you our top stories!