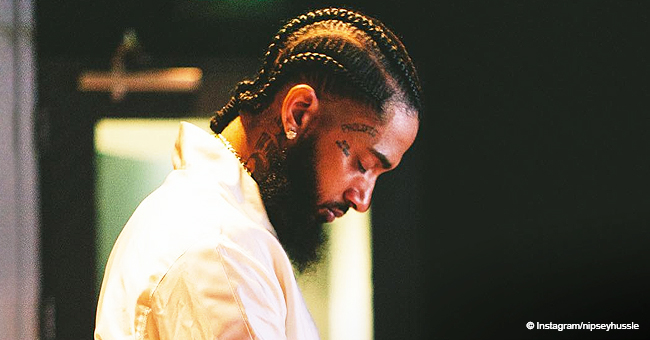 Nipsey Hussle's Brother Reportedly Found Him after the Shooting, Recounts Nip's Final Moments

Nipsey Hussle's brother, Samiel, was the first at his side after the rapper's shooting and recounted his last moments.
On March 31, 2019, Samiel Asghedom was at his grandmother's house in South L-A. when he received a phone call that shattered his world.
The caller told Samiel that his younger brother had just been shot. Samiel's little brother, born Ermias Joseph Asghedom, was better known as the controversial rapper, Nipsey Hussle.
"If somebody would've been there — if I would've been there — I would've shot back. I just wish I would've been there."
TRAGIC INCIDENT CLAIMS NIPSEY HUSSLE'S LIFE
Samiel ran to his car and drove to what the caller had told him was the site of the incident: Nipsey's Marathon Clothing store in Slauson Avenue.
Within minutes Samile was at his side, beating the ambulances and first responders called to the scene. He found his brother grievously wounded, having taken several bullets to his chest, but still breathing.
An impromptu vigil for Nipsey Hussle later in the day would end in a stampede as a fight broke out and panicked the crowd.
DESPERATE ATTEMPT TO SAVE NIPSEY'S LIFE
Samiel called 911, and under the operator's instructions began performing CPR on Nipsey, in an attempt to keep the rapper breathing until medical assistance could reach him.
For Samile, the fact that Nipsey was still breathing was nothing short of a miracle and a sign that he was meant to survive.
THE PARAMEDICS FINALLY ARRIVED
Within minutes, that seemed an eternity to Samiel, the paramedics arrived and started working on his brother.
They inserted an airway and an IV, and lifted him onto the stretcher - and that was when Samiel saw that a bullet had shattered the back of Nipsey's head. He would be pronounced dead at the hospital at 3:55 pm.
BYSTANDERS SHOT BY GUNMAN
Two other people were shot by the gunman who killed Nipsey and were rushed to the hospital. Police would later relate that there had been several minor injuries, but only one fatality: 33-year-old Nipsey Hussle.
The rapper, who had been dedicated to bringing about change in his community, had been scheduled to meet with Police officials the next day to discuss means of bringing an end to violence in South L.A.:
"He made something work in an area that was run-down, that people were scared to come to, and he turned it into a landmark. All races. Different states. Many countries. They all come to Crenshaw and Slauson. He was truly the people's champ."
An impromptu vigil for Nipsey Hussle later in the day would end in a stampede as a fight broke out and panicked the crowd. 19 people were seriously injured and transported to the hospital for treatment.
NIPSEY HUSSLE'S KILLER APPREHENDED
The man who gunned down Nipsey Hussle was arrested after fleeing the scene in a getaway car driven by a woman.
LAPD identified the suspect as Eric Holder, 29, an aspiring rapper who had been seen talking to Nipsey with two other men at Marathon Clothing shortly before the shooting.
Security video would later show Holder returning to the store with a gun and shooting Nipsey, hitting him 5 times in the chest, once in the leg, and in the head.
Holder, who is a suspected gang member, is being held on $5 million bail after being charged with murder and attempted murder. Holder entered a not guilty plea on all charges.
Please fill in your e-mail so we can share with you our top stories!