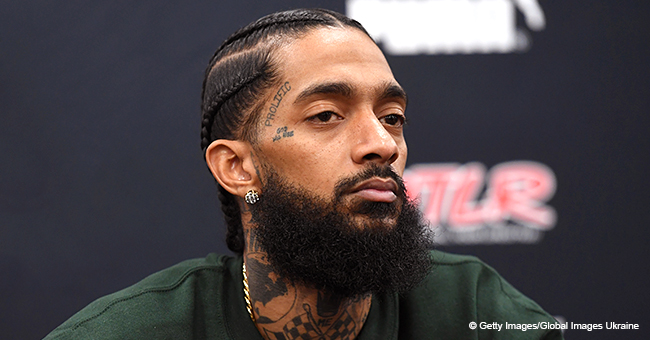 Nipsey Hussle's Grandmother Opens up about His Murder, Says She Praying for the Alleged Killer
Nipsey Hussle's grandmother speaks up about the life-changing moment that permanently took her grandson away and revealed a message for his killer.
Margaret Boutte is mourning the loss of her grandson, Nipsy Hussle who was tragically shot to death outside his clothing store, the Marathon Clothing Company a week ago.
THE HEARTBREAKING CALL
Speaking to CBS, she recalled the painful day she learned of Hussle's demise. She was home with the rapper's brother, Samiel Asghedom, who received a call and immediately left their home.
"He got the call, and he ran out of here so fast. He never did that in the morning. Right away, I called his mother. I said, 'Angel, something must have happened.' I said, 'Samiel jumped up, he didn't take his shower, he got out of here so fast."
According to Boutte who helped raise Hussle and his brother, Asghedom got to the clothing store in time to see his brother alive. He was pronounced dead shortly after arriving at the hospital.
"I hope he does not get killed in custody."
A MESSAGE FOR HUSSLE'S SHOOTER
Hussle's alleged killer, 29-year-old Eric Holder has been arrested and charged with one count of murder and two counts of attempted murder. He also shot at two of Hussle's friends who was standing with him outside his store when the crimes took place.
And while Boutte is saddened by the loss of her grandson, she still finds it in her heart to pray for Holder.
"I'm praying for him too. I hope he does not get killed in custody. Have enough time to ask God for forgiveness. I'm hoping he's sorry for what he did."
Holden, through his lawyer, former O.J. Simpson prosecutor Chris Darden entered a not guilty plea in court on Thursday. His bail was set at $5 million.
THE RESPONSE TO HUSSLE'S DEATH
Meanwhile, Hussle's death has left a dent in the lives of other people he's touched. His longtime girlfriend, Lauren London admitted she was lost without him.
Rapper T.I. also expressed his "disgust" over the crime committed against his friend. He slammed the hate and envy that's going around in the community that led to Hussle's murder.
A vigil was held outside the store where Hussle was shot and due to the huge crowd, there was a fight that resulted in a stampede. 19 were injured and police had to intervene to ask mourners to remain calm.
On April 11, there will be a memorial for the late rapper at the Staples Center to be attended by his family, friends and fans.
Please fill in your e-mail so we can share with you our top stories!