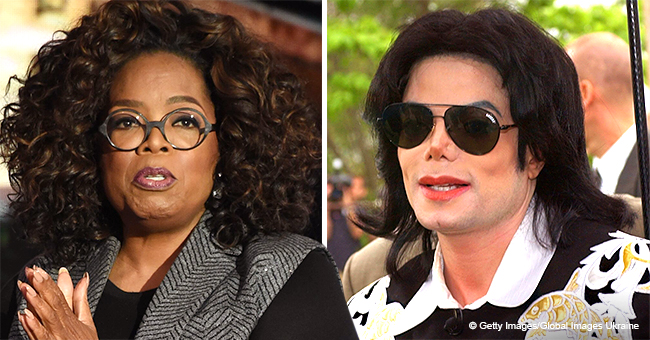 Oprah under Fire after Inconsistencies in Mj Documentary Emerge, Deletes YouTube Videos about It

After inconsistencies emerged in the explosive documentary claiming the late Michael Jackson abused kids sexually, Oprah Winfrey is now facing backlash for her role in interviewing the accusers and giving them a platform.
Winfrey was not spared last month when she interviewed Wade Robson, 36, and James Safechuck, 41, the two men who alleged that Michael sexually abused them for many years when they were children.
Now that there have been several inconsistencies identified in the alleged victim's stories, and especially since she reportedly deleted videos of the interview, fans are coming for her again.
INCONSISTENCIES EMERGE
Michael Jackson biographer Mike Smallcombe first pointed out a discrepancy in Safechuck's claims. The alleged victim stated that he was assaulted by Michael at a train station in the latter's Neverland ranch and also reportedly claimed in an earlier lawsuit that he was abused between 1988 and 1992.
According to The Independent, Smallcombe revealed Neverland's train station was not opened until 1994, and he went on to share construction plans on Twitter that show the station was approved for construction in 1993.
Smallcombe also alleged that Robson was lying in the documentary when he said his family traveled to the Grand Canyon and left him alone with Michael at the Neverland ranch. The famed biographer claimed that Robson's mother previously testified under oath that her son was with them on the Grand Canyon trip.
THE FAMILY RESPONDS
Michael's Nephew, Taj Jackson, retweeted a comment about the inconsistency in Safechuck's story and wrote:
"And the station wasn't built till 94. They got the permit in 93. James own sworn deposition said the "abuse" ended in 92. Sorry you can't be abused in a location that won't exist for another 2 years."
The "Leaving Neverland" director, Dan Reed, addressed the identified discrepancies by responding to Smallcombe's tweet. "Yeah, there seems to be no doubt about the station date. The date they have wrong is the end of the abuse," he said.
DEFENDING THE ACCUSERS
In a statement obtained by The Independent, Reed also claimed: "James Safechuck was present at Michael Jackson's Neverland Valley Ranch both before and after the construction of the train station."
"Safechuck's testimony in the film is that he was abused by Jackson in multiple places over several years, into his teens," he added.
OPRAH WINFREY UNDER FIRE... AGAIN
The exposed inconsistencies, meanwhile, reignited backlash against Winfrey for giving Robson and Safechuck a platform when she interviewed them alongside Reed on an hour-long special titled "Oprah Winfrey Presents: After Neverland."
Per ILOSM, social media users are leaving snake emojis all over the media mogul's timelines and accusing her of betraying MJ.
"Why have you deleted after leaving Neverland interview?" one person asked in comments captured by the outlet. "Guiltyyyyyyyyy you know the truth is coming out, so [you're] trying to cover up your tracks and not be exposed for bad journalism."
Another reportedly echoed:
"You are a horrible, fake person. You were the first to interview the Jackson family after his death, MJ let you into his home & opened up his heart to you & you disrespected him in the most disgusting way. These men have no credible EVIDENCE yet you gave them a platform! Why???"
THE JACKSON FAMILY MAKE THEIR MOVE
"Leaving Neverland," a shocking two-part documentary that details Michael's alleged sexual abuse of Robson and Safechuck when they were children, has been courting controversy since it first premiered in January.
Michael's family has been united in their condemnation of the documentary and even recently made one of their own in response to the sexual abuse allegations.
"Neverland Firsthand," according to a Vanity Fair report, features interviews with the late legend's family members and his longtime technical director who also worked on Neverland Ranch.
Sundberg disclosed that he had never seen a child around Michael "that looked like they had been distressed, hurt, abused," while the singer's niece Brandi who once dated Robson, claimed that her ex is only accusing Michael for financial gain.
Please fill in your e-mail so we can share with you our top stories!