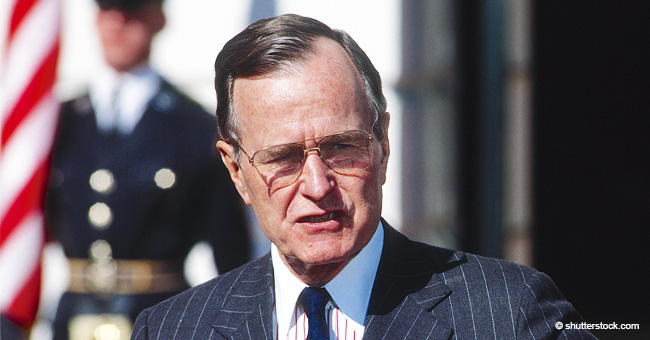 Now Everyone Can Have Their George HW Bush by Buying a Postage Stamp with His Portrait
Former President George H.W. Bush passed away last year on November 30 at the age of 94. The United States' 41st president will now be honored with a collectible item.
On Saturday, the United States Postal Service announced that it planned on issuing a commemorative Forever stamp to pay tribute to the late president.
The United States Postal Service will issue a stamp featuring a portrait of the late Former President George H.W. Bush. The portrait was painted by the award-winning artist, Michael J. Deas.
The image was based on a 1997 photograph of Bush taken by Timothy Greenfield-Sanders. The art director and stamp designer responsible for the work is Phil Jordan.
An issue ceremony will be held on the president's birthday on June 12. It will be hosted at the George H.W. Bush Presidential Library and Museum at 1000 George Bush Drive West, College Station, Texas.
The chairman of the United States Postal Service Board of Governors, Robert M. Duncan, will perform the duty of dedicating official. For those who want to acquire the stamp, pre-order began on April 6.
However, delivery will only happen on or after the ceremony occurs. You can pre-order by going to usps.com/stamps, or by calling 800-Stamp24 (800-782-6724).
The Bush's stamp has been classified as a Forever stamp. It means it will always be equal in value to the current First-Class Mail 1-ounce price.
The politician was responsible for leading the United States all the way to the end of the Cold War. He also drove the creation of a multinational coalition which forced Iraq to withdraw from Kuwait in the Persian Gulf War.
Bush was a well-known advocate for public service. He explained his vision of a nation of volunteers as "a brilliant diversity spread like stars, like a thousand points of light in a broad and peaceful sky."
The politician died at his home in Houston after serving from 1989 to 1993 as the president. Bush was a World War II hero who served as Texas congressman, CIA director, and Ronald Reagan's vice president.
Please fill in your e-mail so we can share with you our top stories!