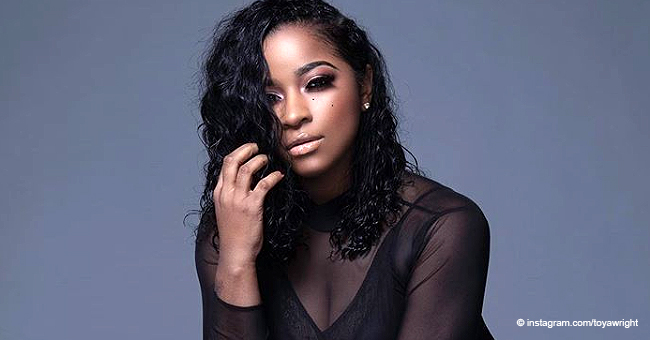 Toya Wright Shares Photos of Rarely-Seen Boyfriend Having a Special Moment with Daughter Reign
Toya Wright recently melted hearts on Instagram with an adorable pic of her boyfriend, Robert Rushing, playing around with their adorable daughter, Reign Ryan Rushing.
Toya Wright's baby's father, Robert "Red" Rushing, kept a low profile on social media at the beginning of their relationship, and even when Toya announced her pregnancy to the world in September 2017, fans had no clue who was the father of her baby.
However, Rushing, who is a business owner and NBA agent, has started to step into the spotlight more and more after being featured on the reality show, "T.I & Tiny: Friends & Family Hustle."
THE LOVE OF A FATHER
Just a few days ago, Toya took to Instagram to share a rare photo of the man and their 1-year-old daughter, Reing Ryan.
In the adorable succession of photos, Rushing is holding Reign in the air, kissing her head, and then her cheek, as the adorable tot looks delighted of being in her dad's arms.
Reign wore a floral printed outfit and had her curly hair tied in a top half bun, while Rushing kept it simple with a white t-shirt.
"A good father will leave his imprint on his daughter for the rest of her life. #blessed," Wright captioned the post.
Fans of the best-selling author took to her comment section to point out just how much her daughter looks like Rushing, and how happy they're she found true love with the man.
"He seems like such a good, solid, nonproblematic dude @toyawright Happy for you," wrote one user.
Another added, "Toya you should have pumped back, she has his whole face. You had no part!"
And a third one replied, "I'm happy you were able to find love again, Reign is her father's twin. What a blessing for you."
WEDDING BELLS RUMORS
Toya and Robert have been dating for about two years, and last fall they sparked wedding rumors with a "baecation" trip to Greece in the company on some friends.
It all started when one of Toya's friends yelled in the background of an Instagram clip: "Toya's getting married!" and even though the star didn't confirm or deny the rumors, she continued teasing fans, maybe unknowingly, about the possibility of a ceremony.
On the same trip, the "How To Lose A Husband" author and her girls were also spotted soaking up the sun in Mykonos. They wore matching, white bathrobes, looking like the typical wedding party.
Two months later, Toya finally addressed the rumors on an episode of "T.I. and Tiny: Friends and Family Hustle."
The real story is that Toya and Robert contemplated walking down the aisle during their vacation but didn't because she refused to get married without her kids there to witness it.
Now, a new trailer for the upcoming season of "T.I. & Tiny: Friends & Family Hustle," has fans wondering if there will ever be a wedding after all. And the odds are not good.
In the clip, Toya and Robert can be seen talking about having a commitment ceremony of some sorts. However, when Rushing exclaims he "ain't' wearing no ring" even if they get married, Toya stops him, saying "oh see, we're not getting married. That's it."
As people keep speculating whether Rushing was serious or not, it seems like all the answers will be given in due time.
"T.I. & Tiny: Friends & Family Hustle" season two starts on April 15.
Please fill in your e-mail so we can share with you our top stories!