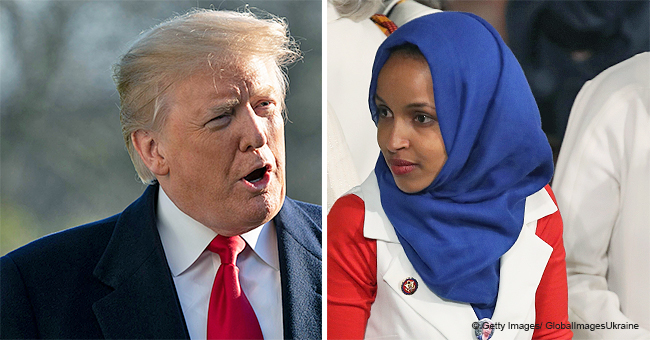 Beto O'Rourke Slams Trump for His Tweet against Ilhan Omar, Calls It 'Incitement to Violence'
Democratic presidential candidate Beto O'Rourke was at a campaign event in South Carolina on Saturday. During a speech, he accused President Donald Trump of inciting violence against a Congress member and Muslim people in the US.
O'Rourke's claims came after the president sent a video tweet that featured the Congresswoman in question.
WHAT TRUMP TWEETED
On Friday President Donald Trump and his allies took to social media to share a video montage which featured Congresswoman Ilhan Omar's statements quoted out of context. The video shows Omar saying "some people did something" on September 11, as scenes from the horrific World Trade Center towers incident play out.
The president captioned the video, "WE WILL NEVER FORGET!" Since then, almost all of the Democratic 2020 presidential contenders have released statements condemning Trump's actions.
O'ROURKE DEFENDS OMAR
Texan Democrat Beto O'Rourke, just like Elizabeth Warren, slammed the president's tweet suggesting it was an "incitement to violence" against Omar and other "American Muslims." His exact words were: "This is an incitement to violence against Congresswoman Omar, against our fellow Americans who happen to be Muslim."
He continued by comparing Trump's tweet to that of the president's previous statements about Latin American immigrants. O'Rourke stated: "This is part and parcel of what we've seen from an administration that has described Mexican immigrants as rapists and criminals."
WHAT THE CONGRESSWOMAN ACTUALLY MEANT
In her original statement, Omar was discussing the general crackdown on civil liberties in the aftermath of the September 11 attacks. She argued that the Muslim community was also disproportionately affected by the incident.
DEATH THREATS AGAINST OMAR
Since the release of the video, death threats against the Minnesota congresswoman have grown. On April 6, New York resident Patrick Carlineo, 55, was charged with threatening to assault and kill Omar.
OTHERS DEFEND OMAR
MSNBC's Chris Hayes also responded to the president's controversial tweet. He wrote: "The President is actively and willfully endangering the life of a member of Congress."
Senator Bernie Sanders wrote:
"Ilhan Omar is a leader with strength and courage. She won't back down to Trump's racism and hate, and neither will we. The disgusting and dangerous attacks against her must end."
Please fill in your e-mail so we can share with you our top stories!